Most riders complain about the weight of their adventure bike, especially in the dirt. Manufacturers make a big deal when they save some weight on a new adventure bike model release. There is just no getting away from it, adventure bikes are heavy.
The average adventure bike has a wet weight of 501 lbs (227 kg). The BMW R 1250 GS Adventure is the heaviest adventure bike at 591 lbs (268 kg) while the Kawasaki Versys-X300 is the lightest at only 386 lbs (175 kg). Adventure bikes are heavy due to large twin-cylinder engines, strong frames, electronic riders aids, and other accessories.
The adventure bike category is a fairly recent development compared to road bikes, dirt bikes and cruisers. An adventure bike has long-travel suspension, a comfortable riding position, powerful engine, and the ability to ride as well in the dirt (well not quite…) as on the highway.
Some riders seem to disagree when it comes to classifying a motorcycle as an adventure bike as opposed to a dual sport. While there is no definitive answer, I did write a more detailed post on the topic here.
How Much do Adventure Bikes Weigh?
Adventure bikes weigh anything between 386 lbs (175 kg) for the small Kawasaki Versys-X300 or BMW G310GS and 591 lbs (268 kg) for the heavy BMW R 1250 GS Adventure. The average weight of the 43 different models of adventure bikes on our list is 501 lbs (227 kg) with just over half (51%) of the bikes weighing more than 500 lbs.
Most of the adventure bikes that weight less than 500 lbs have engine capacities that are 750 cc and smaller. The KTM 890 Adventure R is a notable exception, weighing only 463 lbs (210 kg) despite it's very powerful 889 cc engine.
The adventure bikes that weigh more than 500 lbs all have engines that are at least a 1 000 cc. The BMW F850GS is the only adventure bike that has a smaller engine (853 cc) yet weighs 504 lbs in standard guise and 538 lbs in Adventure trim.
The average large adventure motorcycle (>1 000 cc) weighs 542 lbs (246 kg) while the average mid-sized adventure bike (650-900 cc) weighs 480 lbs (218 kg).
The table below shows the curb weight (ready to ride) of the most popular adventure bikes in pounds (lbs) and kilograms (kg).
Bike
Curb Weight
(in lbs)
Curb Weight
(in kg)
BMW R 1250 GS Adventure
591
268
BMW R 1250 GS Adventure – Edition 40 Years GS
591
268
Yamaha Super Tenere ES
584
265
Kawasaki VERSYS 1000 SE LT+
566.7
257
Ducati Multistrada Enduro 
560
254
Harley Pan America 1250 Special
559
254
Honda AFRICA TWIN ADVENTURE SPORTS ES DCT
553
251
KTM 1290 Super Adventure R
551
250
BMW R 1250 GS
549
249
BMW R 1250 GS – Edition 40 Years GS
549
249
Suzuki V-STROM 1050XT ADVENTURE
544.6
247
Suzuki V-STROM 1050XT
544.6
247
BMW F 850 GS Adventure
538
244
Harley Pan America 1250
534
242
Honda AFRICA TWIN ADVENTURE SPORTS ES
530
240
Honda AFRICA TWIN DCT
524
238
Suzuki V-STROM 1050
520.4
236
Suzuki V-STROM 1000XT ADVENTURE
514
233
Suzuki V-STROM 1000XT
514
233
Suzuki V-STROM 1000
511
232
BMW F 850 GS
504
229
Honda AFRICA TWIN
501
227
BMW S 1000 XR
498
226
Honda NC750X DCT
493
224
BMW F 750 GS
493
224
Kawasaki KLR 650 ADVENTURE
482.7
219
BMW F 900 XR
482
219
Husqvarna Norden 901
480
218
Kawasaki VERSYS 650 ABS
476.3
216
Kawasaki VERSYS 650 ABS LT
476.3
216
Suzuki V-STROM 650XT ADVENTURE
476
216
Suzuki V-STROM 650XT
476
216
Honda NC750X
472
214
Kawasaki KLR 650 TRAVELER
471.7
214
Suzuki V-STROM 650
470
213
KTM 890 Adventure R
463
210
Kawasaki KLR 650 ABS
456.2
207
Yamaha Tenere 700
452
205
Honda CB500X ABS
434
197
KTM 390 Adventure
387
176
BMW G 310 GS
386
175
BMW G 310 GS – Edition 40 Years GS
386
175
Kawasaki VERSYS-X300 ABS
385.9
175
Adventure bike curb weigh in lbs and kg (Source: Manufacturers' websites)
All of the mid-sized to large adventure bikes weigh more than 200 kg (441 lbs), a magical number that many adventurers dream of dipping under. The only bikes on the list that weigh less than 200 kg are not true adventure bikes.
'Adventure bikes' under 200 kg
The Honda CB500X is more of a road bike with slightly longer suspension travel. The lightest three bikes on the list are cheap versions of their larger siblings which I've added to the list due to their family resemblance and the fact that they are meant to introduce new riders to the sport.
The KTM 390 Adventure is a single-cylinder from the Philippines, the BMW G310GS a small single from India, and the Kawasaki Versys-X300 a twin from Thailand.
Why Are Adventure Bikes so Heavy?
There are various reasons why adventure bikes are so heavy. Here are just a few:
Large capacity engines
Adventure bikes are heavier that dual sports and dirt bikes due to their large capacity engines. Adventure bikes generally have twin-cylinder engines with a capacity of 650 cc or more. The bigger the engine, the heavier the bike.
The reason why adventure bikes have these large engines is to have enough power to cruise at the highway speed limit all day long. Comfort on long-distance trips are more important than nimbleness in the dirt. Adventure riders often carry heavy luggage and even a pillion, so more power is needed.
That said, most modern adventure bikes has more power than you'll ever need and that is why I prefer a lighter adventure bike with a smaller engine. Luckily, that is the direction some manufacturers are moving in (for example the Yamaha T7 and Husqvarna's Norden 501 – fingers crossed!). I rode the T7 the other day and it delivers more than enough power from its 689 cc parallel-twin engine.
For everything there is to know about dirt bike weight, check out this detailed post.
Wind protection and accessories
Adventure bikes are designed to be comfortable, especially at higher speeds. That's why they are fitted with large windscreens, a big molded seat, and a luggage at the back. Some adventure bikes come standard with crash bars and rear luggage as well.
All these added accessories add to the weight of the machine but if you plan on touring with your bike it makes sense. Yes, you can start with a lighter dual-sport or enduro-type bike and add accessories as required. But at some stage, you'll need to start bracing the rear subframe and modify the chassis to accommodate the extra weight.
Large gas tank
Adventure bikes are designed to tour long distance, into the unknown even. Charlie Boorman (who we've met on our Cape to Cairo trip) and Ewan McGregor showed what can be done on a large BMW R1200GS Adventure when they rode around the world for three months in Long Way Round.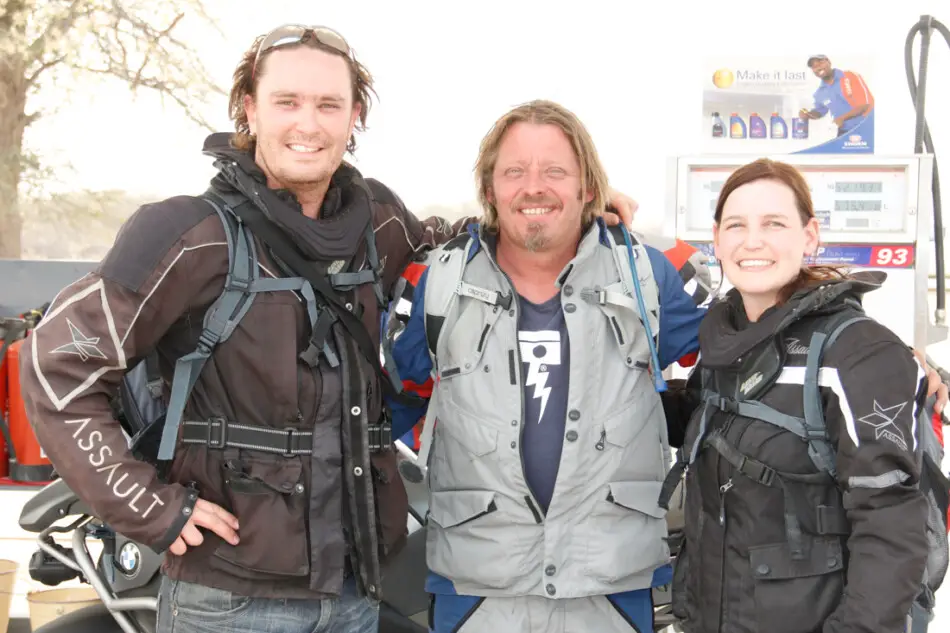 For tips like these, where gas stations may be few and far between, you need a large gas tank that can hold enough fuel to extend your range. A gallon of gas weighs around six pounds. That equates to nearly 50 lbs on a BMW R 1250 GS Adventure, which is not insignificant.
Some bikes carry their fuel lower down, like the KTM 890 Adventure R with its fuel tank hanging very low on either side of the frame. While the weight of the fuel doesn't change, it lowers the center of gravity so that the bike handles better (and feel lighter).
Electronics and safety
It is a common trend for each new adventure bike model to hit the showroom floors to feature more and more advanced electronics and safety features. It is almost unheard of today to buy a top-end adventure bike that does not have traction control, lean-sensitive ABS brakes, cruise control, multiple rider modes, and other features like hill-hold assist.
These systems require many sensors, wiring, control modules, and buttons. Each component also requires hardware to fit it, as well as plastic protection and casings. All if this adds to the weight of the bike. The only modern adventure bike that is still sold without any rider aids, is the Yamaha T7. Incidentally, that is exactly why it is at the top of my adventure bike wish list.
More space
If you are going to pack your adventure bike with camping gear and luggage for a long trip, and possibly load your partner on the back, you need space. More space, means larger (read 'heavier') chassis and sub-frame.
The sub-frame also needs to be strong to withstand the weight of the rider, passenger and luggage. Even more so on corrugated gravel roads in poor condition. Stronger frames require thicker (read 'heavier') materials.
How to Ride a Heavy Adventure Bike in the Dirt
On the road, most adventure bikes do not feel as heavy as their weight suggests on paper. Most adventure motorcycles are very well balanced. In fact, the heaviest of the bunch, the BMW R 1250 GS Adventure is so well balanced due its boxer engine (the cylinder heads are low and stick out horizontally to the sides) that it feels lighter than many smaller bikes.
It is when the going gets tough, like loose gravel or thick sand, where adventure bikes struggle to hide their weight. Picking up a dropped adventure bike is not that hard if you use the correct technique, but try doing it five times a day in 100 degree heat. That's when grown men start crying… and trading their GS's for dual sports.
Sit where you can, stand when you have to
If you intend on taking your 500+ lbs beast off-road, it is best you go for some off-road rider training. You'll thank me when your mates start dropping like flies in the sand and you keep going. The golden rule (some would argue), is "Sit when you can, stand when you have to". Standing up transfers your weight lower down to the foot pegs. It also gives you more freedom to move your bodyweight around to balance the bike.
Balance, not muscle
I big, heavy adventure bike cannot be thrown around with your body like a light dirt bike can. Instead, you need to rely on the balance of the bike. Understanding the bike's own balancing point is critical. You can practice static balance by standing next to your motorcycle with the bike off the stand. Now walk around the bike with only one hand touching the bike at any time. This will teach you where the bike's balance point is.
Next, you can practice balancing the bike with you standing on the foot pegs. Do this without the engine running. As you become more comfortable balancing the bike, you'll become a much better rider and drop the bike less often.
Tips for short riders
If the adventure bike is too tall for you (a very common problem), you should practice keeping the bike upright with only one foot on the ground. You might have to scoot your butt over to one side. For more on adventure bike seat height, as well as how to ride tall adventure bikes, check out this post I wrote.
Look up and commit
Finally, to be a good rider in the dirt requires commitment. Believe in yourself and look where you are going. It is not possible to overstate the importance of looking far ahead. Most riders make the mistake of looking at the obstacle right in front of their motorcycle. Inevitably, they crash into it.
By looking up, your brain is telling your body to do what it has to to go where you are looking at. It works!
Ditch the tech
Oh, and remember to switch your fancy adventure bike's rider aids to off-road mode. That means, less intervention by the traction control system and ABS brakes. On some motorcycles you can completely disable these features for off-road riding. Some systems work as well off-road as on. Check out my video on the Suzuki VStrom 1050XT's hill hold control function here.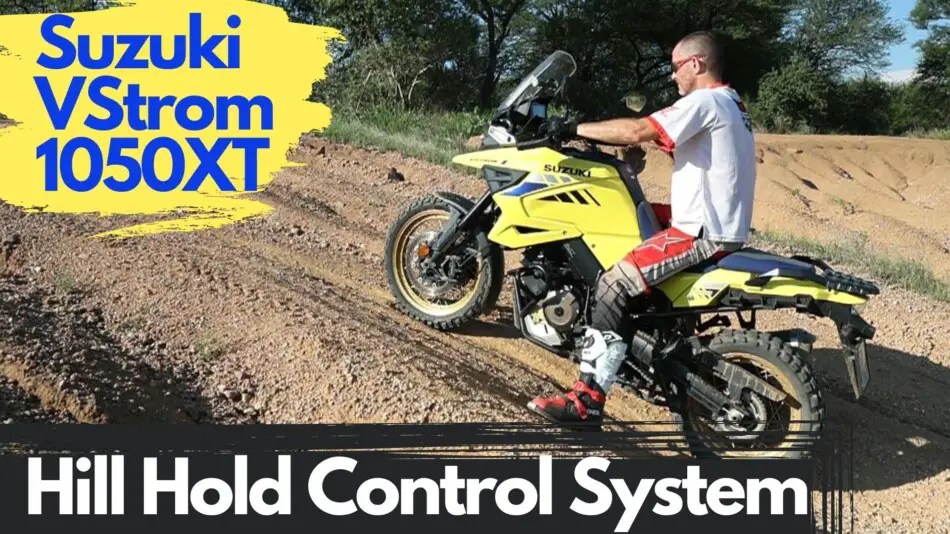 Light-Weight Adventure Bike Alternatives
Many adventure riders are rebelling against the weight gain of modern adventure motorcycles and are looking for alternatives.
This is not a new problem. As far back as 2003, Chris Scott and his Desert Riders team used three Honda XR650L's to traverse the Sahara desert. They were fully loaded and rode through the dunes unaided. Not something that's possible on a new KTM 1290 Super Adventure R or a BMW R 1250 GS Adventure.
Other riders modify four-stroke enduro bikes to suite their travel needs. Round the World (RTW) Paul and Aaron Steinmann each used a KTM 500 EXC that is adapted to long distance touring. These bikes weigh between 300 and 320 lbs, which is about half a GS Adventure.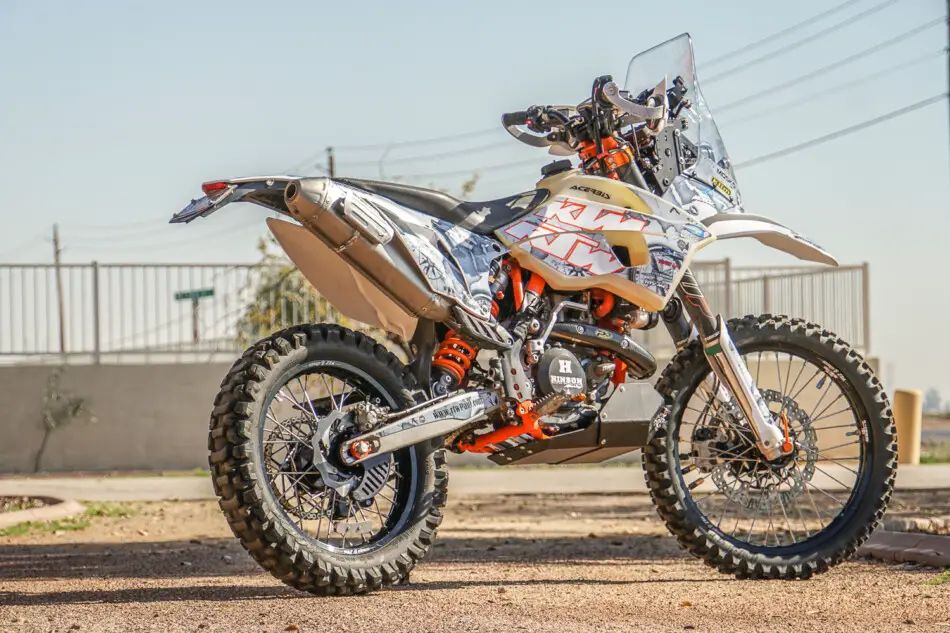 450 cc four-stroke dirt bikes are also often modified to do some light-weight touring. With taller gearing, an oil cooler, and a street-legal kit you are good to go. You will be limited by what you can carry in terms of luggage, but you'll be able to go anywhere you can think of. That is, if you don't run out of fuel first.
Conclusion
Modern adventure bikes are facing an obesity epidemic that is only getting worse with each new model release. Luckily some manufacturers are starting to take notice and designing smaller adventure bikes with less features weighing them down.
Let's hope this trends continue and that we'll soon see a Honda CRF850L (baby Africa Twin?) and a Husqvarna Norden 501.