Adventure bikes are generally quite tall compared to other types of motorcycles. This can make it difficult for shorter riders to gain confidence when getting on their new adventure motorcycle for the first time.
The average adventure bike has a seat height of 33.1 inches (841 mm). With a seat height of 35 inches (889 mm), the BMW R 1250 GS Adventure is the tallest, while the BMW F 750 GS and the Harley Davidson Pan America 1250 Special have the shortest seat height of 31.1 inches (790 mm).
The best way to find out which motorcycle will be best suited to you is to go to the dealership and sit on the bike. A test ride is even better. But before you go, here is everything I could find on adventure bike seat heights.
Why are Adventure Bikes so Tall?
Adventure bikes have tall seat heights due to long travel suspension, big wheels, and high ground clearance for off-road riding. The seat height is further increased by the generally large engine displacement of adventure bikes, which increases the distance between the seat and foot pegs.
Adventure bikes are designed to be comfortable on the highway for long-distance touring, so they have big engines. In order to fit these large, mostly twin-cylinder engines into the frame, the seat cannot be too close to the foot pegs. This results in a comfortable upright riding position at the expense of keeping the seat low enough to flat foot it.
Adventure bikes are also designed to venture off the sealed highways onto gravel roads and even rough ungraded terrain. Due to these design features, adventure bikes tend to have taller than average seat heights.
Suspension: To soak up bumps, and to carry the weight of a passenger and luggage, these bikes have long travel suspension which increases the overall height of the bike.
Wheels: ADV bikes have large wheels (usually 21 inch in the front and 18 inch in the rear) to clear obstacles and to smooth out the ride on dirt roads. Larger diameter wheels rolls over, instead of into, obstacles more easily.
Ground clearance: When riding off-road, the last thing you want is to hit the bottom of the chassis or engine against a stump or rock in the road. High ground clearance is a must, but it raises the whole bike, not just its belly. And because engineers have to fit in a large engine between the bottom of the frame and the seat, they are limited to how low the seat can be.
Some motorcycle manufactures make provision for shorter riders by offering different seats that lower the seat height. See my 'advice for short riders on an adventure bike' further down in the post.
List of Adventure Bike Seat Heights
To give some perspective, the average adventure bike has a seat height of 33.1 inches compared to 32 inches for the average street bike. The overall average motorcycle seat height of all categories of bikes is 31.6 inches. Cruisers are the lowest bikes (find out why by reading this post).
I also wrote a detail post on the seat heights of all the different types of motorcycles which you can read here.
The table below contains all the seat heights of all the adventure bikes currently (2021/22) available from the major brands of motorcycles' websites.
Bike Model
Seat Height
(Inches)
Seat Height
(mm)
BMW R 1250 GS Adventure
35*
889*
BMW R 1250 GS Adventure – Edition 40 Years GS
35*
889*
Suzuki DR650S
34.8*
884*
BMW F 850 GS Adventure
34.4
874
Yamaha Tenere 700
34.4
874
Kawasaki KLR 650 ADVENTURE
34.3
871
Kawasaki KLR 650 TRAVELER
34.3
871
Kawasaki KLR 650 ABS
34.3
871
Suzuki V-STROM 1050
33.7
856
Honda AFRICA TWIN ADVENTURE SPORTS ES DCT
33.5*
851*
Suzuki V-STROM 1050XT ADVENTURE
33.5
851
Suzuki V-STROM 1050XT
33.5
851
Honda AFRICA TWIN ADVENTURE SPORTS ES
33.5*
851*
Honda AFRICA TWIN DCT
33.5*
851*
Suzuki V-STROM 1000XT ADVENTURE
33.5
851
Suzuki V-STROM 1000XT
33.5
851
Suzuki V-STROM 1000
33.5
851
Honda AFRICA TWIN
33.5*
851*
Yamaha Super Tenere ES
33.3*
851*
Kawasaki VERSYS 1000 SE LT+
33.1
841
Kawasaki VERSYS 650 ABS
33.1
841
Kawasaki VERSYS 650 ABS LT
33.1
841
BMW S 1000 XR
33*
838*
BMW F 850 GS
32.9*
836*
Suzuki V-STROM 650XT ADVENTURE
32.9
836
Suzuki V-STROM 650XT
32.9
836
Suzuki V-STROM 650
32.9
836
Honda CB500X ABS
32.8
833
BMW F 900 XR
32.5
826
BMW G 310 GS
32.3*
820*
BMW G 310 GS – Edition 40 Years GS
32.3*
820*
Kawasaki VERSYS-X300 ABS
32.1
815
Harley Pan America 1250
31.8
808
Honda NC750X DCT
31.6
803
Honda NC750X
31.6
803
BMW R 1250 GS
31.5*
800*
BMW R 1250 GS – Edition 40 Years GS
31.5*
800*
Harley Pan America 1250 Special
31.1
790
BMW F 750 GS
31.1*
790*
Adventure bike seat heights comparison table (Source: Manufacturers' websites)
The seat heights with an "*" indicates motorcycles with different seat height options. These bikes either have different seats or lowered suspension. The seat height indicated in the table above is the lowest seat height without adding an optional extra or a lowering kit to the bike. The BMW R 1250 GS, for instance, has seat heights ranging from 31.5 inches with OE lowered suspension to 34.3 inches with the standard setup. This can make a huge difference to a shorter rider.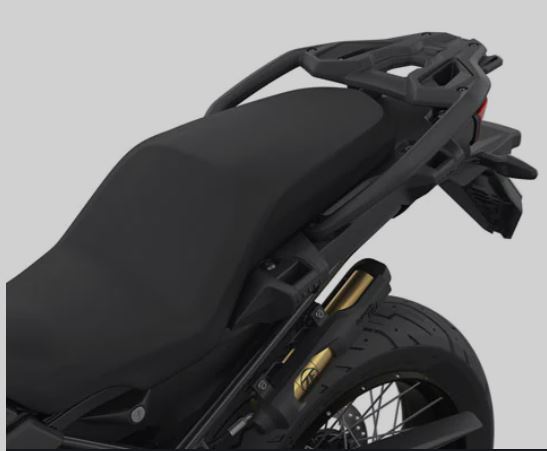 I've left out some popular brands like KTM and Triumph for the simple reason that it was just too difficult to find the specifications on their websites. KTM does not list seat height and the downloadable brochures are not available for the adventure bikes. On Triumph's website, there are so many different variants of each model.
How Important is Seat Height on an Adventure Bike?
It is important that you feel comfortable on your motorcycle. Taller riders with longer legs will have an easier time putting both feet on the ground on a tall adventure bike. Generally, most motorcycles are easy to control (and balance) while moving, but it is when you come to a stop or have to ride slowly and in tight places, when weight and seat height may become an issue.
When you stop you need to put your feet down to stop the bike from toppling over. In dirt riding, you may have to dab a foot when balancing the bike during slow riding in technical terrain. This is when it helps to be able to put both feet on the ground. You don't need to be able to flatfoot it on both sides, but it certainly helps.
I had a Honda XR 650 L with a massively tall seat height of 37 inches. I dropped the bike a few times while slowing turning the bike around because I had my left leg fully extended to reach the ground. I got tired of picking up the bike, so I sold it for a shorter bike.
Advice for Short Riders on an Adventure Bike
If you are vertically challenges (sorry for the cliché description!), you can still ride an adventure bike. Here are a few things that may help you get on (so to speak):
Practice skills for short riders
If you have your heart set on a tall adventure bike and you can't flatfoot it, work on your skills rather than settling for another bike. It is all about balance. Balance is not a problem while you are riding, as the bike balances itself. This is true regardless of whether you are short or tall. Where it gets tricky for shorter riders is when you stop or pull away.
Start by taking the bike off the side stand to find the balance point. Now walk around the bike and keep it upright with only one hand on the bike at any time. Don't muscle it. If you need to use your strength or body weight, you are doing it wrong. It is all about finesse and balance. If you can get comfortable with your bike's balance, it will be far less intimidating to stop and start.
To mount and dismount, use the foot pegs like you would use the stirrups getting on a horse. Put your left foot on the left peg to get some elevation, and swing the right foot over. Reverse the operation to dismount.
You need to get into the habit of putting one foot firmly on the ground when coming to a stop, instead of trying to balance the bike with both feet dangling in the air.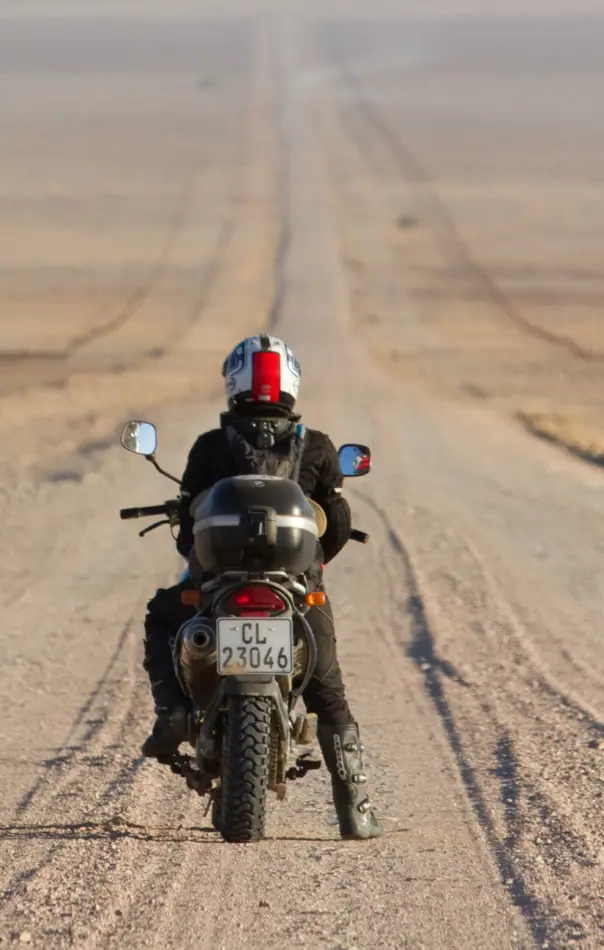 If your inseam is too short, scoot your butt off the seat to extend the leg you are putting down. In most instances it makes sense to step on the left foot so you can cover the rear brake with the right, but I suggest practicing both sides. If the terrain is uneven, you need to plan ahead and step to the higher ground to avoid falling over.
For some more tips, check out how Jocelin Snow tames this massive BMW R 1250 GS Adventure:
Get a lowered seat
Many manufacturers offer lowered seat options form the factory. BMW is a good example, with no less than four heights to choose from on the F 850 GS: Low (32.9″), Standard (33.9″), Comfort (34.4″), and Rallye (35″). The comfort seat is taller due to more padding. There is an even lower option from BMW. The lowering link kit (32.1″). More on this in the next section.
If your dream bike does not offer a lowered seat as a standard option, you can always get a custom seat made for your bike. Seat Concepts is one such company that makes seats for most brands of motorcycles. The finish and comfort often surpasses even the OEM seats. A cheaper alternative (for cheap riders – a.k.a. KLR riders) is to remove the seat cover, shave off some foam, and replacing the cover.
Just remember: Less foam does equate to a shorter ride… but it also removes some comfort.
Lowering links (Caution!)
Some brands (like BMW) offer lowering link kits that were designed by the manufacturer's engineers. This is a great way to reduce the seat height even more. For example, the BMW F 850 GS mentioned earlier can be dropped to 32.1″ with the optional link kit.
There are aftermarket lowering links available, like these on Amazon, but just be aware that these may change the dynamics of the bike. Generally, if you change the rear suspension height, you need to do the same at the front. Otherwise, you are shifting the weight distribution and possibly unsettling the overall balance of the bike. That said, I've heard of many riders successfully lowering their bikes with aftermarket links.
Get crash bars
If you intend on riding in the dirt with your fancy new adventure bike, get crash bars as soon as you can. You are going to drop your bike. If you are a shorter rider, it is virtually guaranteed. When by wife (5'3″) started riding her BMW F650 Funduro, she constantly dropped the bike when stopping or maneuvering slowly in tight spots. While very frustrating to pick up the bike it also caused a lot of cosmetic damage. We called it character, but looking back, a set of crash bars like these from SW-Motech would have paid for itself.
Crash bars also offer you something to tie small luggage to or a place to grab onto when you have to pick up the fallen motorcycle.
Get a shorter bike
Yes, anyone can ride any size bike if you practice the skills mentioned earlier. And yes, you can customize most bikes to become more manageable to mount and dismount. That said, don't discount the massive confidence boost you'll experience on a bike that is less intimidating. When we traveled from Cape Town to Cairo for 3 months, my wife and I decided to do so on 200 cc Chinese delivery bikes instead of our 650 cc adventure bikes. This made the trip so much more enjoyable, as we didn't have to worry about hurting ourselves trying to pick up the heavy bikes.
If you are a new rider, the experience you'll gain learning on a shorter, lightweight bike will make you a better rider faster, even if you do decide to upgrade to that BMW R 1250 GS Adventure later.
Ride on!