Big adventure bikes are expensive and it can be quite intimidating to get onto a motorcycle fully loaded with camping gear. This is even more true for inexperienced riders. There is an alternative, though. Cheap little road motorcycles with capacities of 125 cc or 250 cc. My wife and I rode more than 9 000 miles from Cape Town to Cairo on two 200 cc pizza delivery bikes.
Touring on a small motorcycle is slow and uncomfortable, but it has many benefits, from safety to easy maintenance. It is also much cheaper to tour on a small motorcycle. The biggest drawback is not being able to keep up with highway traffic, yet many adventure riders have successfully crossed continents on small capacity bikes.
My wife and I have traveled 3 600 miles, without back-up, around South Africa on two Chinese 125 cc pizza delivery motorcycles (similar to Honda's CG 125 from the 80's) in 19 days. We took the two little bikes into the desert a couple of times too. Later, we rode 9 630 miles on two Chinese 200 cc road bikes (basically an old Suzuki GN 250), from Cape Town to Cairo, over 90 days. The only issues we ever had were a few flat tires and a dirty carburetor.
For a list of pro's and con's, check out the table below.
Pro's
Con's
Cheap
Uncomfortable
Easy to ride
Slow
Easy to fix
Small (for luggage)
Safer
Vibrations
Likable by locals
Reliability of some
Easy to ship
Advantages and disadvantages of small capacity motorcycles for touring
For those on a tight budget that are interested in taking on the open road on a motorcycle, read on to find out what we've learned over thousands of miles on small 125 cc and 200 cc motorcycles.
Small motorcycles are cheaper
In the United States, for most, a small, cheap bike might mean getting something like a Yamaha XT 250. At $5 199 that is nearly four times as much as an Asian import like the Tao Tao TBR7 (at only $1 399). If you are planning on touring in Africa, South America or Asia the options of cheap Chinese bikes are near endless. Buying a cheap, small local motorcycle will cost far less than shipping your big adventure bike there and back.
Not only are the motorcycles cheap to buy, but parts parts are cheap and freely available in the developing world. When we traveled through Africa on two Chinese delivery bikes, I was worried about parts availability. I soon realized that these bikes are everywhere. They are just branded differently. I purchased a carb kit in rural Tanzania, a chain in Ethiopia and tube in Sudan, for next to nothing.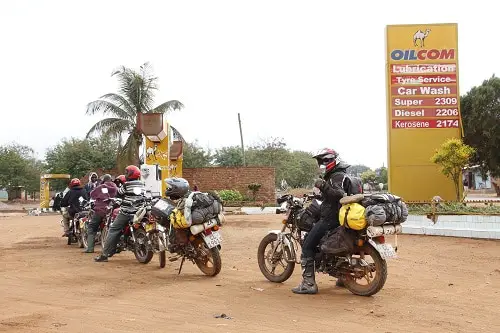 Apart from the price of the bike and cheap parts, they are very economical too. I rode my bike hard everyday, the whole day, and it still returned 85 mpg on average. That translates to a range of 225 miles on the 2.6 gallon gas tank. Insurance on a small bike is cheaper and so is temporary import tax if you cross multiple borders. In Africa, you need to put down a deposit for import tax, in case you don't leave the country again. It depends on the value of your bike.
Small motorcycles are easier to ride
Small motorcycles as much easier to ride than large, heavy adventure bikes. Especially for short or inexperienced riders. My wife rode 3 600 miles around South Africa on a 125 cc bike less than a month after of getting onto a motorcycle for the first time in her life. With camping gear weighing down the bike and messing with the center of gravity, a small bike is so much easier to control and pick up after a tumble.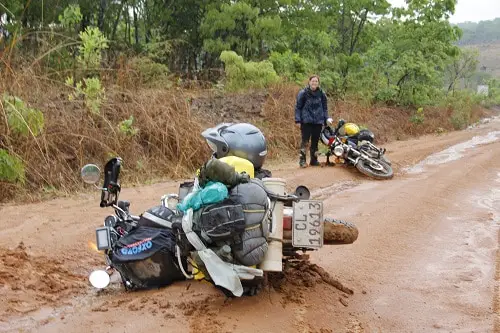 You might be concerned about going off road on a small bike with very little power. While it can be tough in sandy ruts, if you take it slow in the dirt it is possible. I was more concerned of breaking something, especially on the gnarly rocks of the Chalbi desert in Northern Kenya.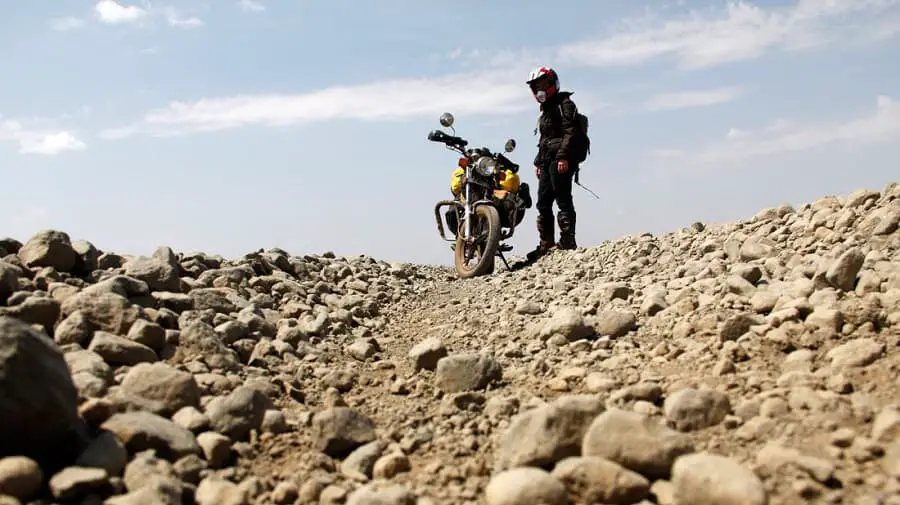 Being able to firmly plant both feet on the ground and keep your bike upright with the least amount of effort, afford you much needed confidence if you are traveling in a foreign country. I loved the fact that my wife and I could quickly pick up our small 200 cc motorcycles on our own if it fell over.
Small motorcycles are easier to fix
Cheap single cylinder motorcycles are much simpler and there is less that can go wrong. There are no fancy electronics that can leave you stranded without any clue as to what the issue is. Most cheap Chinese or Indian bikes still have carburetors. If something does go wrong, it is much easier to fix yourself and most back yard mechanics should be able to assist you.
My 200 cc delivery bike spluttered and died in the middle of rural Tanzania due to dirty fuel from Malawi. I somehow got it going again and limped to the nearest town. With no-one understanding any English, a new carb kit was installed in less than an hour and it cost next to nothing (I damaged the float trying to clean the carb, something which I have not done before at that point).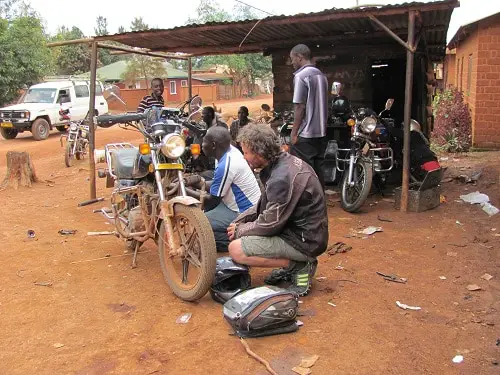 Asian bikes are all over the developing world. If that is where you are headed, you will not have trouble finding parts or someone that can fix your bike. If you have trouble with your BMW of KTM, the bush mechanic might just stand their scratching his head. Or try to fix it and make it worse.
The added benefit of a small motorcycle is that, if all else fails, it is light enough that you can simply load it on the back of a pick-up and drive to the nearest town for help. I should add that apart from the dirty carb, the only other breakdowns in 90 days were three flat tires.
Small motorcycles are safer
This one is debatable. Small capacity motorcycles are slow and it is quite scary if you are maxing out at 55 mph and a big bus races past. Highway riding is just not fun, but in most African countries the speed limit is around 50 mph on most country roads and as low as 20 mph in the villages. Once we reached Zambia on our Crossing Africa trip, the slow speed of our 200 cc Motomias didn't bother us again.
One thing I realized is that it is actually not a bad thing if you can't go faster than the speed limit. You will have days where you just want to reach your destination and on a bike bike, you will go faster than you should. My wife nearly hit a goat in Ethiopia. If she was on her BMW, it would have been disastrous. I remember how I always rode my KLR 650 as fast as it would go on the boring, straight tar roads. Not being able to speed is safer and it means less chance of getting pulled over by the cops (not fun in a foreign country).
Small motorcycles make people like you
When traveling in a foreign country, there are benefits to blending in with the locals. You often year stories of corrupt police demanding bribes at check-points, especially in Africa. While this definitely does happen, we found that they are more interested in our small motorcycles and where we were from, than asking for money. On a flashy, $15 000 bike, it just looks like you have extra cash burning holes in your pockets.
Other travelers also find it very intriguing seeing someone on a small capacity bike so far from home. We met a team of South African film makers in Uganda, producing a traveling series for national television. They drove three VW Amarok trucks and offered that we can ship our bikes back with their vehicles if we reach Egypt at the same time. They couldn't believe that we've ridden that far on the cheap bikes.
In Northern Namibia we ran into Charlie Boorman, from Long Way Round and Long Way Down. He was quite impressed with our mission to ride most of their journey in the opposite direction. He gave us some tips on the roads in Sudan, and agreed that a small bike is actually not such a bad idea for the roads of Africa.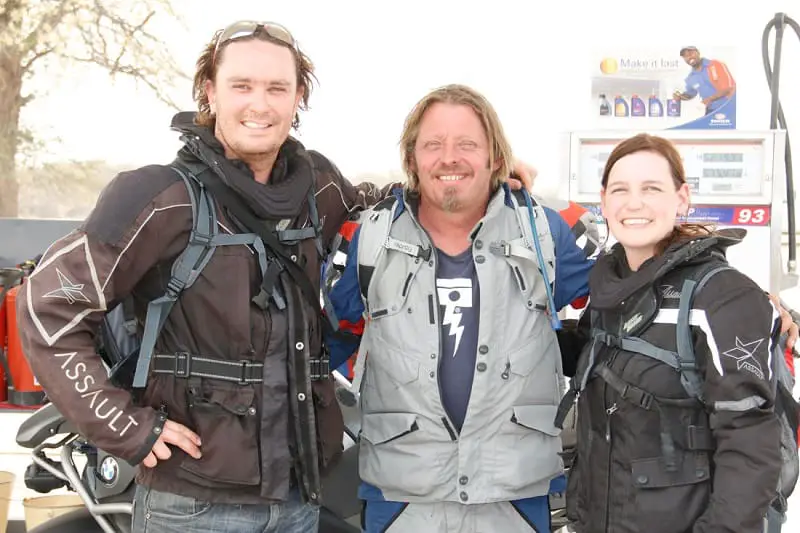 We kept a daily blog and we still get contacted by strangers asking for advice on how to travel on small motorcycles. During the trip we also wrote articles for news papers and magazines, getting paid in the process. People just can't believe that it is possible to cross a continent like Africa on small capacity road motorcycles, but here's the secret: I actually believe it is much easier than on a big adventure bike.
Small motorcycles are easier to ship
If you are thinking of an adventure bike trip outside your own country, you will have to consider how to ship your bike across the water. Many riders remove the front wheel and handlebars, and need to build a wooden crate that will take the motorcycle. The small (and lighter) the bike, the cheaper the shipping charge will be.
On our 3 month trip through Africa, this is one thing I did not have fully planned until we reach Egypt. Organizing the shipping of a bike out of Egypt is not a two day affair, but that is how long we had before our flight out. Luckily, we reached Alexandria the same day as the TV crew we met earlier in Uganda. They offered for us to ship our bikes with their VW pickups in the shipping containers they rented. If we had big adventure bikes, this would not have been possible.
Small bikes can also more easily be put onto the back of a truck or even inside a canoe if you had to cross a river. Everything about a small bike is just easier. At one of the lodges we camped at, in Namibia, we put my wife's bike on the back of a truck as she could not ride the two miles of thick sand. Three people could easily pick up the fully laden bike.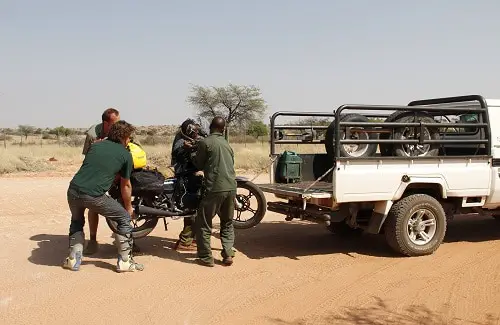 Disadvantages of small motorcycles
Small motorcycles are awesome for traveling, but that does not mean they are perfect. Far from it. I remember on my first trip on a 125 cc I told my wife, after two weeks in the saddle, that I will never ride a small bike ever again. I lied. Two years later we did another trip of more than 9 000 miles.
Here are some drawbacks of touring on a small bike:
Small motorcycles are uncomfortable
If you are taller than 5 foot 6, a small 125 cc bike is not going to be comfortable. With a low seat height, you knees are bent at a sharp angle and depending on how much luggage you carry, you might be quite close to the handle bars. In this awkward position, it is not possible to ride for more than two hours without a rest break. On our 9 600 mile trip with the 200 cc motorcycles, we averaged just under 200 miles a day, with the longest days being around 300 miles.
My wife, who is somewhat vertically challenged, loved the small bikes as she struggles on bigger bikes. She had a BMW F650 Funduro, but still preferred her 200 cc Chinese road bike for touring.
Small motorcycles are slow
A small capacity motorcycle is slow. Very slow! On our trip with the 125 cc delivery bikes, I had to gear down to second on some steeper uphills that had me crawling along at 25 mph. On the flats I could manage a 45 – 50 mph cruising speed. My wife actually had to wait for me at the top of each hill as she weights 50 pounds less than me.
The longer, cross continental trip on the 200 cc bikes went much better. We could both easily cruise at 50 mph and I even reached 65 mph on a long flat section of tar road. A slightly higher cruising speed and a bit of power to pass a slow moving truck would have been helpful.
Small motorcycles are… small
Apart from being uncomfortable for taller riders, it might not be possible to fit large luggage boxes like the ones on the back of a big BMW or KTM. You can, however, fit a big tank bag and throw-over saddle bags. And if you ride alone (which is likely, on a small capacity bike) then you can pack quite a bit of luggage where the pillion would have sat. It was designed to take a 150 pound adult, so some camping gear is unlikely to break the bike.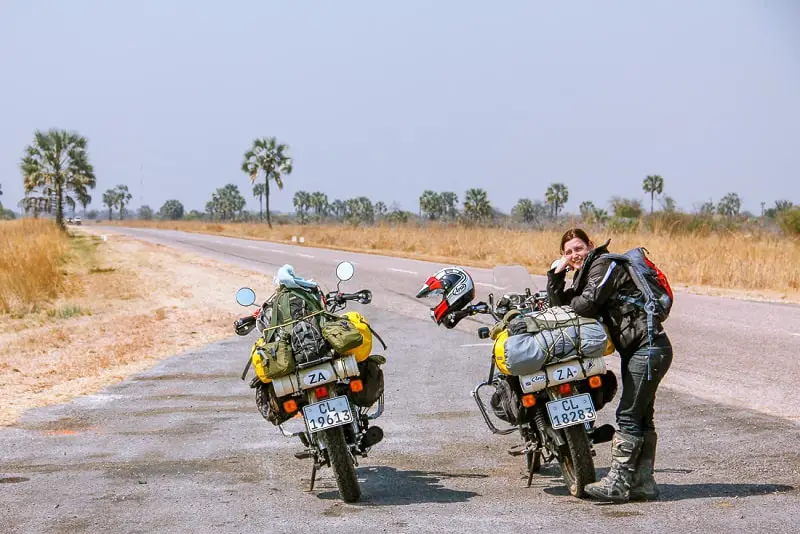 Small motorcycles vibrate
Small, unrefined four-strokes vibrate a lot, but so do many 650 Japanese thumpers. Get used to it! You are a hardcore adventure biker. As much as I love the modern adventure bikes, there is something magical about roughing it on a more basic machine that make a trip more adventurous.
Reliability of some brands
Some Chinese bike brands has a bad reputation of dismantling itself while you ride. Unfortunately, it is not always possible to know where the bikes came from. There are a few manufacturers in China that build reliable bikes that are very close to the original Japanese bikes they are ripping off. Dayun, for instance, builds a 125 cc that looks exactly like the Honda CG 125, and a 200 cc that is a carbon copy of the Suzuki GN 250.
We've punished these bikes in the worst of conditions without any problems. The only modification we made were fitting original Japanese chains which lasted the duration of the 9 600 mile trip.
Final thoughts
My biggest dream growing up was to one day drive from Cape Town to Cairo in a big truck. I subconsciously knew it would have to wait until I am retired, with time and money on my side. Then we started riding small bikes and realized it is a cheap alternative.
We never imagined how interested people would be in our journey, and with the money earned from writing articles for newspapers and magazines, the whole 3-month Cape to Cairo trip for two ended up costing less than one new BMW F 650 GS at the time. And that included the two brand new 200 cc motorcycles and flights back home. The only thing I regret is not doing more such trips before we had kids.
With the availability of cheap small motorcycles these day, there are no excuses anymore. Get a licence. Get a bike. And get going!