Dirt bikes weigh less than any other type of motorcycle thanks to small frames, light aluminum components, and no dash, lights, indicators, or side stands.
The average dirt bike weighs 203 lbs (92 kg) which is less than the smallest and lightest street bike. The Kawasaki KLX 300 R trail bike is the heaviest dirt bike at 282 lbs (128 kg), while the Yamaha PW 50 is the lightest dirt bike at only 90 lbs (41 kg). Trail bikes weigh more than race bikes, and 4-stroke dirt bikes weigh more than 2-strokes.
If you are unsure which dirt bike is right for you, the best way to get a feel for the bike's weight is to take it for a test ride. If that is not possible, at least try to sit on each bike on your shortlist. To help you narrow down your search for the perfect dirt bike, I've sorted all the major dirt bike models according to their wet (curb) weight in pounds and in kilograms.
Complete List of Dirt Bike Weight (in lbs and kg)
For a complete list of dirt bike weights I've included a table below which includes engine capacity and weight in pounds (lbs) and in kilograms (kg). For a similar comprehensive list on dirt bike seat heights vs engine size, check out this post.
Bike
Engine Size
(cc)
Curb Weight
(kg)
Curb Weight
(lbs)
Kawasaki KLX300R
300
128
282
Honda CRF450X
450
125
275
Suzuki RMX450Z
450
123
272
Honda CRF250F
250
120
265
Yamaha WR450F
450
119
262
Yamaha YZ450FX
450
115
254
Yamaha WR250F
250
115
254
Kawasaki KLX230R
230
115
254
Kawasaki KLX230R S
230
115
254
Honda CRF450RX
450
114
251
Yamaha TT-R230
230
114
251
Honda CRF450-S
450
112
247
Suzuki RM-Z450
450
112
247
Kawasaki KX450 X
250
112
246
Yamaha YZ450F MONSTER ENERGY YAMAHA RACING EDITION
450
111
245
Yamaha YZ450F
450
111
245
Yamaha YZ250FX
250
111
245
Honda CRF450RWE
450
111
244
Honda CRF450R
450
111
244
Kawasaki KX450
450
110
243
Kawasaki KX450 SR
450
110
243
Husqvarna FC450*
450
110
242
Kawasaki KX250 X
250
109
240
KTM 250 SX-F Troy Lee Designs*
250
109
240
KTM 450 SX-F*
450
108
239
Honda CRF250RX
250
108
238
Husqvarna FC350*
350
108
238
Gas Gas MC450F*
450
107
237
Kawasaki KX250
250
107
237
KTM 350 SX-F*
350
107
236
Gas Gas MC350F*
350
107
236
KTM 250 SX-F*
250
107
235
Husqvarna FC250*
250
107
235
Gas Gas MC250F*
250
106
235
Yamaha YZ250F
250
106
234
Yamaha YZ250F MONSTER ENERGY YAMAHA RACING EDITION
250
106
234
Suzuki RM-Z250
250
106
233
Yamaha YZ250X
250
104
229
Honda CRF250R
250
104
229
Husqvarna TC250*
250
104
229
Gas Gas MC250*
250
103
228
KTM 250 SX*
250
103
228
Yamaha YZ250 MONSTER ENERGY YAMAHA RACING EDITION
250
103
227
Yamaha YZ250
250
103
227
Kawasaki KLX140R F
140
99
218
Kawasaki KLX140R L
140
95
209
KTM 150 SX*
150
95
209
KTM 125 SX*
150
95
209
Gas Gas MC125*
125
95
209
Yamaha YZ125 MONSTER ENERGY YAMAHA RACING EDITION
125
95
209
Yamaha YZ125
125
95
209
Yamaha YZ125X
125
95
209
Kawasaki KLX140R
140
93
205
Honda CRF125F BIG WHEEL
125
90
199
Yamaha TT-R125LE
125
90
198
Suzuki DR-Z125L
125
89
196
Honda CRF125F
125
88
194
Honda CRF150R
150
84
185
Honda CRF110F
110
77
170
Kawasaki KX112
112
77
170
Kawasaki KX100
100
77
170
Kawasaki KLX110R L
110
76
168
Kawasaki KLX110R
110
76
168
Kawasaki KX85
85
75
165
Yamaha YZ85LW
85
75
165
Husqvarna TC85 (19/16)*
85
73
162
Gas Gas MC85 19/16*
85
73
162
KTM 85 SX 19/16*
85
73
162
Suzuki RM85
85
73
161
Suzuki RM85
85
73
161
Yamaha YZ85
85
73
161
Gas Gas MC85 17/14*
85
72
159
KTM 85 SX 17/14*
85
72
159
Yamaha TT-R110E
110
72
159
Yamaha YZ65
65
61
134
Kawasaki KX65
65
60
132
Yamaha TT-R50E
50
58
128
Husqvarna TC65*
65
57
125
Gas Gas MC65*
65
57
125
KTM 65 SX*
65
57
125
Suzuki DR-Z50
50
54
119
Honda CRF50F
50
50
110
Husqvarna TC50*
50
44
97
Gas Gas MC50*
50
44
97
KTM 50 SX*
50
44
97
KTM 50 SX Mini*
50
43
94
Yamaha PW50
50
41
90
Dirt bike weights (in lbs and kg) and engine sizes (in cc) for most dirt bike brands (Source: Manufacturers' websites)
The table above shows the engine size in cc so that you can compare the weights of similar sized dirt bikes. Some manufacturers' bikes are lighter than others. I've quoted curb (wet) weights in the table which is how all the Japanese manufacturers list the weights on their websites.
The European manufacturers, KTM, Husqvarna and Gas Gas (indicated with an * next to the bike model), shows dry weight on their sites. As a result, I had to estimate the curb weight to keep it comparable by looking up the fuel tank, engine oil and coolant capacity, and then multiplying each by the weight of the relevant fluids.
Weights of Different Types of Dirt Bikes
While all types are dirt bikes weigh very little compared to other types of motorcycles, there are differences in the weights of different types of dirt bikes.
Dirt Bike Weight: Motocross (Race) vs Trail (Cross Country) Bikes
A motocross (or race/competition) bike and a trail bike from the same manufacturer will look identical to the untrained eye. Even though a motocross and a trail bike shares most of the same parts, they are designed with two very different styles of riding in mind.
A trail bike is designed to be more comfortable on longer rides on mountain or forest single tracks. Therefore, they have softer suspension and possibly a wide-ratio gearbox. A motocross bike needs to be fast around a race track, be able to soak up massive jumps without bottoming out, and accelerate quickly out of turns. Motocross bikes also have lower gearing with ratios that are closer together.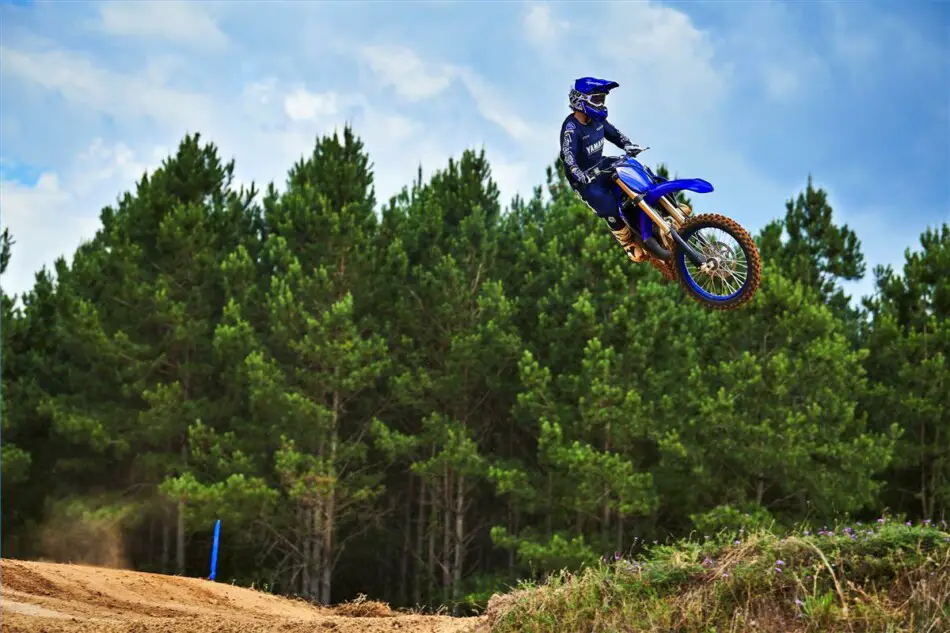 As a result of the different demands placed on motocross bikes compared to trailbikes, motocross bikes tend to be lighter than comparable trail bikes. The addition of a kickstand, headlight, and maybe an electric starter will make a trail bike heavier than a race bike.
As an example, the Honda CRF 450 R motocross bike weighs 244 lbs (111 kg) compared to 275 lbs (125 kg) for the Honda CRF 450 X trail bike. Side-by-side it is hard to tell them apart.
At 243 lbs (110 kg) the Kawasaki KX 450 competition bike weighs 45 lbs less than the Kawasaki KLX 300 R trail bike that weighs 282 lbs (128 kg), despite the 450 having a much larger engine.
Dirt Bike Weight: 2-Stroke vs 4-Stroke
A 2-stroke dirt bike generally weighs a bit less than a similar-sized 4-stroke dirt bike. This is thanks to a 2-stroke engine having less moving parts that add weight. There are no valves, rockers, camshafts, and cam chains in a 2-stroke engine. For an in-depth look at the difference between 2-stroke and 4-stroke dirt-bikes, check out this post I wrote.
Apart from the engine, there are no differences between a 2-stroke and a 4-stroke motorcycle. To give you an idea of the weight difference, the Yamaha YZ 250 2-stroke dirt bike weighs 227 lbs (103 kg) compared to the Yamaha YZ 250 F 4-stroke that weighs 234 lbs (106 kg). Both are motocross bikes.
Dirt Bike Weight vs Engine Size
One of the heaviest components on a dirt bike is the engine. As a result, dirt bikes with larger capacity engines will weigh more than their smaller siblings. The Yamaha YZ 125 is identical in size to the Yamaha YZ 250. In fact, the Yamaha YZ 125 has a slightly taller seat height (see my post of dirt bike seat heights here). Yet, the YZ 250 weighs 227 lbs (103 kg) which is nearly 18 lbs heavier than the YZ 125's 209 lbs (95 kg). This is solely thanks to the 250's larger motor.
To put things into context, the average weight of all 50, 65, 85, 125 and 250 cc 2-strokes dirt bikes, and 250 and 450 cc 4-strokes are shown in the table below.
| | | |
| --- | --- | --- |
| Dirt Bike (by engine) | Average Weight (lbs) | Average Weight (kg) |
| 450 cc 4-stroke |           249 |           113 |
| 250 cc 4-stroke |           239 |           108 |
| 250 cc 2-stroke |           228 |           103 |
| 125 cc 2-stroke |           209 |             95 |
| 85 cc 2-stroke |           162 |             73 |
| 65 cc 2-stroke |           128 |             58 |
| 50 cc 2-stroke |           104 |             47 |
Average weight of the different types of dirt bikes by engine size and type (2-stroke vs 4-stroke)
If you are unsure which dirt bike is best for you, please take note that there is more to it than the weight of the bike. To help you choose the right dirt bike for your experience level, build and intended use, check out this detailed post I wrote.
Why are Dirt Bikes so Light?
Dirt bikes are designed to go fast over rough terrain, be it a motocross track with huge jumps and whoops, or a forest single track littered with rocks and tree roots. To keep the weigh down, dirt bikes have very little accessories like lights, instruments, or kick-stands. Some dirt bikes don't even have electric starters.
Another design feature to assist dirt bikes in off road riding and rough terrain is the long-travel suspension and big wheels. This increases a dirt bike's ground clearance, but also raises the seat height (see more on dirt bike seat height here). Shorter riders often have trouble touching the ground with both feet on a dirt bike, but the light weight makes it easier to keep the bike upright.
And when you drop your dirt bike, which is not uncommon (even for experienced riders), you'll be glad that it weighs much less than a similar-sized street bike.
How Can I Make My Dirt Bike Lighter?
While dirt bikes are generally very light already, there are a couple of things you can do to shed even more weight on your dirt bike.
The biggest weight saving that can be had is by replacing the factory exhaust with a lighter, aluminum or titanium exhaust. An aftermarket titanium exhaust can shave off more than a pound and increase the power and torque slightly. A free flowing aftermarket pipe will also eliminate the spark arrestor found in trail bikes. Just make sure it is legal to ride without a spark arrestor in your area.
Another weight saving modification is to replace your lead acid battery (if your bike has an electric starter) with a lithium battery. Lithium batteries, like this YTX-14 BS from Amazon, might be expensive, but they are smaller, much lighter and can hold a charge over winter without requiring a battery charger being hooked up.
Other weight saving tips include titanium bolt kits, lighter hubs (expensive and hard to find), and replacement race plastics. These are great ways to throw away money. Personally, I'd just replace the pipe and battery, and then eat less pork pies and cake. It is cheaper, healthier, and way more effective to go on a diet than to replace 1 oz parts here and there.
Conclusion
Dirt bikes are significantly lighter than any other type of bike. As a result, the weight of the bike should hardly be a deciding factor if you choose between different brands of dirt bikes. Make sure you consider your intended use and pick the bike with the right seat height, engine size and type (2-stroke vs 4-stroke), and suspension setup (race vs trail). Oh, and the one that looks coolest to you!
Happy riding!