One of the most important factors to consider when choosing a dirt bike is the seat height. Dirt bikes tend to have much taller seats than any other motorcycle which can be intimidating for beginner riders.
The average dirt bike has a seat height is 34 inches (863 mm). With a seat height of 38.6 inches (980 mm), the Yamaha YZ125 is the tallest dirt bike, while the Yamaha PW50 kiddies bike has the shortest seat height of 18.7 inches (475 mm). Dirt bikes are tall due to long travel suspension, big wheels for off road riding, and a neutral seating position.
Before we look at how to choose the correct size dirt bike for you and the reasons why dirt bikes are so tall, let's have a look at the seat heights of all the major manufacturers of dirt bikes.
List of Dirt Bike Seat Heights
Dirt bikes can be classified into three main categories: competition, recreational, and kiddies bikes.
Competition dirt bikes are very tall due to their long travel suspension that is necessary to soak up big jumps on motocross tracks. These bikes include 125 cc and 250 cc two-stroke motorcycles, and 250 cc, 350 cc, and 450 cc four-stroke dirt bikes. The average competition dirt bike has a seat height of 37.6 inches (955 mm) which is too tall for most riders to put both feet flat on the ground. The Yamaha YZ 125 and YZ250 are the tallest dirt bikes, while Husqvarna's competition dirt bikes are the lowest at 37 inches.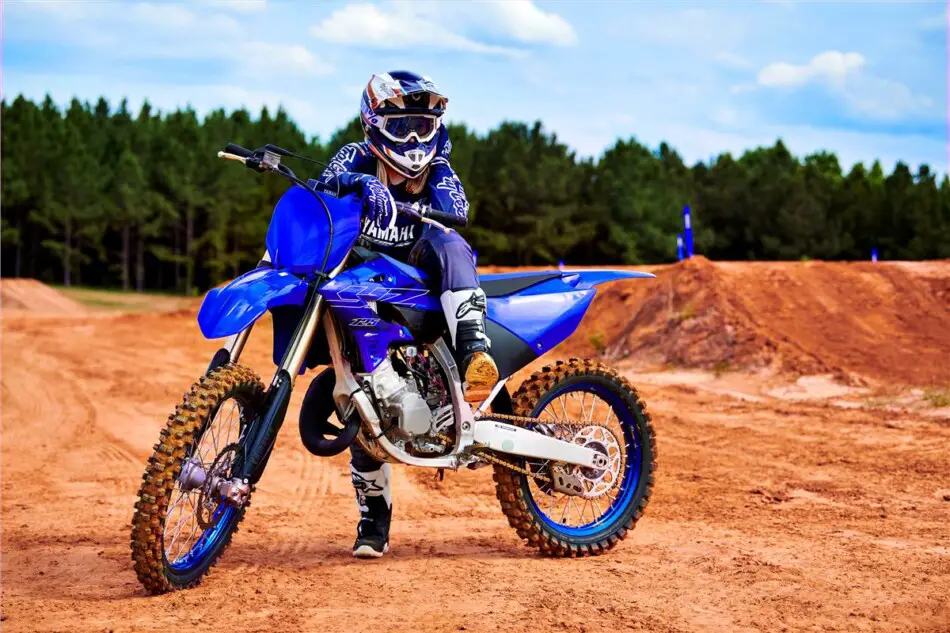 Recreational dirt bikes and kids bikes (except the very small 50's) have similar seat heights. Recreational dirt bikes generally have engine sizes between 100 cc and 300 cc (mostly four-stroke), while kiddies bikes have either 50 cc, 65 cc or 85 cc, two-stroke engines.
The average non-competition dirt bike has a seat height ranging from the Yamaha PW 50 kiddies bike at 18.7 inches (475 mm) to the Kawasaki KLX 300 R at 36.4 inches (925 mm). The tallest kiddies bike is the KTM 85 SX or Gas Gas MC 85 at 35 inches (890 mm).
The table below contains all the seat heights and engine sizes (in cc) of all the dirt bikes currently (2021/22) available from the major motorcycle manufacturers' websites. For seat heights on other types of bikes, check out this comprehensive post.
Bike Model
Seat Height
(Inches)
Seat Height
(mm)
Engine size
(cc)
Yamaha YZ125
38.6
980
125
Yamaha YZ250F
38.2
970
250
Yamaha YZ250
38.2
970
250
Yamaha YZ250X
38.2
970
250
Honda CRF450RWE
38
965
450
Honda CRF450R
38
965
450
Honda CRF450RX
38
965
450
Honda CRF250RX
38
965
250
Yamaha YZ450F
38
965
450
Honda CRF450X
37.9
963
450
Honda CRF450-S
37.8
960
450
Honda CRF250R
37.8
960
250
Suzuki RM-Z450
37.8
960
450
Yamaha YZ450FX
37.6
955
450
Yamaha YZ250FX
37.6
955
250
Yamaha YZ125X
37.6
955
125
Yamaha WR450F
37.6
955
450
Yamaha WR250F
37.6
955
250
Kawasaki KX450
37.6
955
450
Kawasaki KX450 SR
37.6
955
450
Suzuki RM-Z250
37.5
953
250
Kawasaki KX250
37.4
950
250
Kawasaki KX450 X
37.4
950
450
Suzuki RMX450Z
37.4
950
450
Gas Gas MC125
37.4
950
125
Gas Gas MC250
37.4
950
250
Gas Gas MC250F
37.4
950
250
Gas Gas MC350F
37.4
950
350
Gas Gas MC450F
37.4
950
450
KTM 450 SX-F
37.4
950
450
KTM 350 SX-F
37.4
950
350
KTM 250 SX-F
37.4
950
250
KTM 250 SX-F Troy Lee Designs
37.4
950
250
KTM 250 SX
37.4
950
250
KTM 150 SX
37.4
950
150
KTM 125 SX
37.4
950
150
Kawasaki KX250 X
37.2
945
250
Husqvarna TC250
37
940
250
Husqvarna FC250
37
940
250
Husqvarna FC350
37
940
350
Husqvarna FC450
37
940
450
Kawasaki KLX300R
36.4
925
300
Kawasaki KLX230R
36.2
919
230
Kawasaki KLX230R S
35.4
899
230
Gas Gas MC85 19/16
35
890
85
KTM 85 SX 19/16
35
890
85
Honda CRF250F
34.8
884
250
Yamaha YZ85LW
34.8
884
85
Husqvarna TC85 (19/16)
34.4
875
85
Yamaha TT-R230
34.3
871
230
Kawasaki KX100
34.3
871
100
Kawasaki KX112
34.3
871
112
Gas Gas MC85 17/14
34.1
865
85
KTM 85 SX 17/14
34.1
865
85
Kawasaki KLX140R F
33.9
861
140
Suzuki RM85
33.5
851
85
Suzuki RM85
33.5
851
85
Yamaha YZ85
33.1
841
85
Honda CRF150R
32.8
833
150
Kawasaki KX85
32.7
831
85
Suzuki DR-Z125L
32
813
125
Yamaha TT-R125LE
31.7
805
125
Kawasaki KLX140R L
31.5
800
140
Honda CRF125F BIG WHEEL
30.9
785
125
Kawasaki KLX140R
30.7
780
140
Kawasaki KX65
29.9
759
65
Yamaha YZ65
29.7
754
65
Husqvarna TC65
29.5
750
65
Gas Gas MC65
29.5
750
65
KTM 65 SX
29.5
750
65
Honda CRF125F
29.1
739
125
Kawasaki KLX110R L
28.7
729
110
Kawasaki KLX110R
26.8
681
110
Yamaha TT-R110E
26.4
671
110
Husqvarna TC50
26.2
665
50
Gas Gas MC50
26.2
665
50
KTM 50 SX
26.2
665
50
Honda CRF110F
25.9
658
110
Suzuki DR-Z50
22
559
50
KTM 50 SX Mini
22
558
50
Yamaha TT-R50E
21.9
556
50
Honda CRF50F
21.6
549
50
Yamaha PW50
18.7
475
50
Dirt bike seat heights comparison table (Source: Manufacturers' websites)
I have not distinguished between two-stroke or four-stroke dirt bikes since there is no difference in the seat height between similar capacity bikes of these two engine types.
Why are Dirt Bikes so Tall?
Dirt bikes are used to race (or at least ride fast) over technical terrain. In professional competitions, dirt bikes often jump high through the air and need to be able to soak up the landing without falling apart. In hard enduro, dirt bikes need to clear obstacles and absorb rocky terrain without rattling to pieces.
The terrain that dirt bikes have to face requires the machine to have specific attributes that all contribute to a tall seat height.
Long suspension travel
Dirt bikes have long-travel suspension in the front and rear in order to soak up irregularities on gravel and dirt roads as well as motocross tracks. Dirt bikes are often used to ride over rocky terrain, where suspension travel is important to keep traction.
In motocross competitions, dirt bikes have to jump very high through the air and be able to soak up the weight of the bike and the rider when it lands again, without bottoming out. The long suspension travel found on dirt bikes are the main reason for the tall seat height.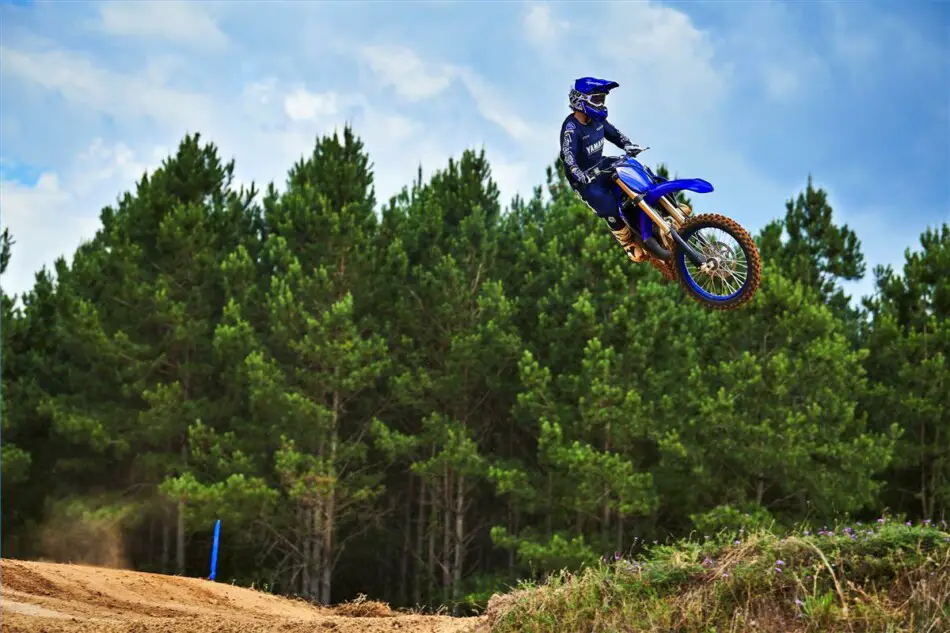 Neutral seating position
Dirt bike riders need to sit comfortably in a neutral body position so that they can balance the bike over slow obstacles, or move around when cornering fast. This upright seating position, with the rider's feet under his or her body with a 90 degree bend in the knees, means that the foot pegs cannot be too close to the seat, like on a street bike.
Dirt bike riders often stand while riding over uneven terrain or jumping through the air. This is to prevent getting bucked off the seat, but also to assist with shock absorption by bending the knees. A tall seat that is far enough from the foot pegs assists the rider to transition quickly between the seated and standing position.
High ground clearance
The foot pegs also cannot be too low to the ground to lower the seat height because then the bottom of the bike's frame would hit rocks and other obstacles in the road. In order to clear rough terrain, dirt bikes need a high ground clearance. This is achieved by the long travel suspension, tall seat height, and big wheels.
Big wheels
Big wheels roll over obstacles (instead of crashing into them) much easier than small wheels. Most dirt bikes have a large 21 inch front wheel and a slightly smaller 18 inch rear wheel. These sizes have a large enough circumference to roll over most irregularities on gravel roads and to even clear logs as high as the radius of the front wheel with ease.
Kiddies dirt bikes have smaller wheels to lower the seat height, while dirt bikes for older youths have different wheel size options, for instance the KTM 85 SX come with either 19/16 inch wheels (front and rear respectively) or 17/14 inch wheels for shorter riders.
How to Choose the Right Size Dirt Bike
There are many different factors to consider when choosing a dirt bike, including engine capacity, power output, 2-stroke vs 4-stroke, seat height and weight. Since this post focuses on seat height, we'll look at the dimensions of the bike only. If you want a more detailed post that takes all the variables into consideration, check out this post.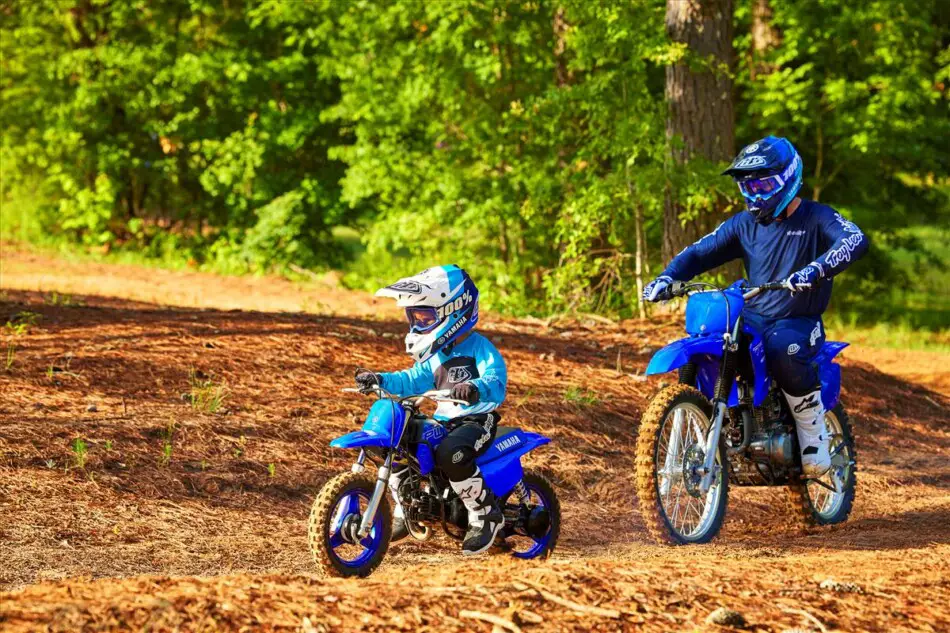 The only way to know for sure whether you will be comfortable on a dirt bike is to take it for a test ride. This is not always possible, especially a brand new bike. The second-best alternative is to at least sit on the bike to get a feel for the weight distribution and your ability to keep it upright. It helps to be able to touch the ground comfortably with both feet at the same time. Fit-toeing is fine.
If you are still doing some online research before narrowing down a short-list of dirt bikes to go test, you may want to measure your inseam. This is the distance between the ground and your crotch (with your feet flat on the ground). You can compare this measurement with the table of seat heights presented earlier in this post.
Be mindful of the fact that the shape of the bike's seat will also affect your ability to touch the ground comfortably. A wider seat will make it more difficult, while a narrow seat (like those found on most dirt bikes) will make it easier to reach the ground.
Dirt bikes are generally very light and therefore easier to keep upright when standing still on your tip-toes. While riding, the seat height is totally irrelevant anyways. It is only when coming to a stop, or putting your feet down on uneven terrain when a tall bike can be intimidating for a beginner rider.
As you gain experience, you will learn to control the bike while stationary.
Conclusion
Buying a new (or second-hand) bike is a special experience but for many, it is an expensive one. It is therefore important to make the right choice. You need to balance room for growth with immediate comfort and confidence. Many new riders believe they need to buy the biggest, fastest bike they can afford so that they can 'grow into it' as they improve their skills. I know, I've done the same.
But believe me when I say, it is more fun riding fast on a slow bike, than riding slow on a fast bike. And you will learn much faster and become a better rider if you are not intimidated by your machine. You can always upgrade later.
Enjoy the ride!