Now before you laugh at me and accuse me of comparing apples and oranges, hear me out. In fact, quite a few viewers asked me to compare the Honda XR 650 L with the KTM 690 Enduro R on my YouTube channel.
Initially, I also thought that these two bikes are way too different. I mean, clearly the KTM 690 Enduro R is better than the Honda XR 650 L in every way, period. But I've searched online and found the same question pop up on multiple forums like Adventure Rider and Thumper Talk.
KTM is clearly in a different league (and at $11 999 in the U.S., nearly double the price), but if you want to go on weekend camping trips, or even a trip across the continent, both can do the job just fine. There might even be some arguments in favor of the old XR 650 L.
I want to argue that, for a 3-month trip from Cape Town to Cairo (through Africa), there is no clear winner between a BMW1250GS, a 650 single, or even a 200cc Chinese delivery bike (something we've done before).
Before we continue a quick disclaimer: I've not owned a KTM690 Enduro R, but I do know a few people who have. I've also asked around online to get more info from actual owners.
Specifications: KTM 690 Enduro R vs Honda XR 650 L
But let's first have a look at the specifications:
| | | |
| --- | --- | --- |
| | Honda XR 650 L | KTM 690 Enduro R |
| Price (U.S.) | $6 999 | $11 999 |
| Engine | 644 cc air-cooled | 693 cc liquid-cooled |
| Power | 43.6 hp (32.1 kW) | 74 hp (55 kW) |
| Torque | 38.2 lbs-ft (51.9 Nm) | 54.2 lbs-ft (73.5 Nm) |
| Wet weight | 346 lbs (157 kg) | 350 lbs (159 kg) |
| Power-to-Weight ratio | 0.13 hp/lbs | 0.21 hp/lbs |
| Fuel tank capacity | 2.8 galons | 3.6 galons |
| Seat height | 37 inches | 35.8 inches |
| Ground clearance | 13 inches | 10.6 inches |
| Suspension travel (front/rear) | 294mm/280mm | 245mm/245mm |
| Gearbox | 5 speed | 6 speed |
| Compression ratio | 8.3 : 1 | 11.8 : 1 |
| Years running | 1993-current | 2012-current |
Honda XR 650 L vs KTM 690 Enduro R – Specifications Comparison
Looking at the specs above, it is clear that the KTM is better in every way, but it comes at a price.
KTM's are expensive (to buy and own)
And the expense does not stop once you've purchased the bike. Quick a few 690 owners report cost of ownership to be expensive too. One rider mentioned this while busy selling his KTM 690 Enduro R: "The KTM is probably 4x as expensive to own after a year. It's not just the buying cost. It's how often it breaks down, WHO can fix it, what you can do yourself." – Thumper Talk
The Honda XR 650 L is so simple, even I (with my two left thumbs), can do all the maintenance tasks myself.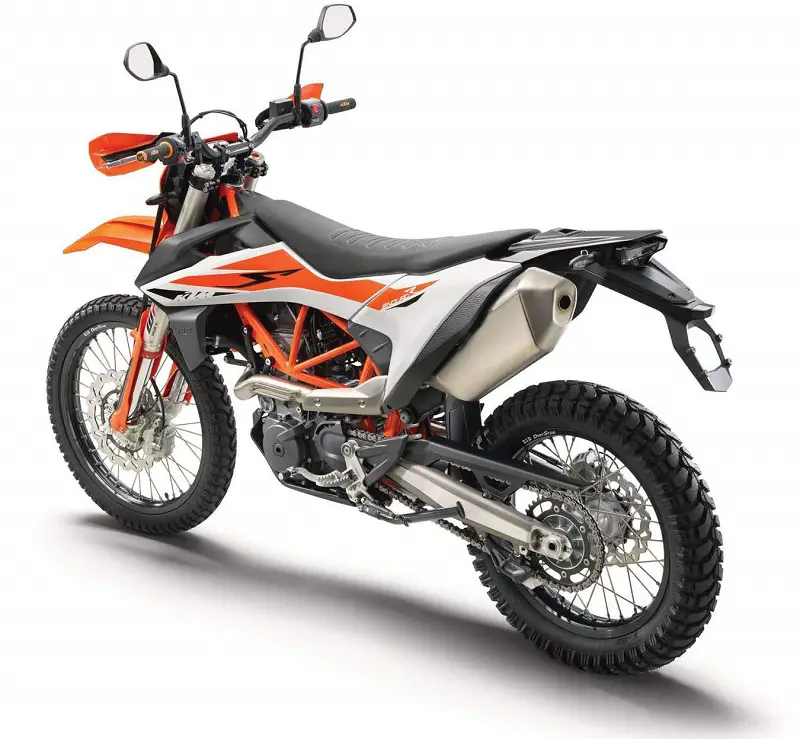 Another rider who owns the XR 650 L's predecessor, the XR 600 R, has this to say about his KTM 690 Enduro R: "The KTM is like a very, very expensive mistress. The XR gives much the same kick in conjunction with a much lower top speed" – Thumper Talk
Why I like the Honda XR 650 L
For me, after owning the XR 650 L for a couple of months, the following advantages of the Honda XR 650 L over the KTM comes to mind:
The XR 650 L is much cheaper than the KTM 690 Enduro R
There are a lot more after-market parts and accessories available for the XR 650 L
There are more second-hand XR 650 L's available, than KTM 690s
The XR 650 L has been around for more than 3 times as long as the KTM 690, so know-how is available all over the internet
Anecdotal evidence of reliability issues on the KTM far outweigh similar concerns on the XR
That does not mean I don't like the KTM's. I did a whole post on my research into KTM reliability and I am 100% sure that for commuting, playing around close to home, or short weekends away (close to civilization), the KTM 690 Enduro R wins hands down to the Honda XR 650 L (if you've got the cash… and possibly a KTM dealership in your hometown).
But when it comes to proper touring across the continent, there is nothing that the KTM 690 can do that the Honda XR cannot (within the law). Yes, the Honda is just barely comfortable at the highway speed limit of 75 mph (120 kph) and the KLT 690 can still lift the front wheel at the same speed. But the Honda will happily to so day after day without fail.
And when the road ends, the Honda has enough low-end grunt to keep going. Even when fully loaded. Just ask Chris Scott of the Desert Riders Project who rode three XRL's through the gnarliest terrain in the Sahara Desert.
Conclusion
So there you have it. I prefer the Honda.
Will I ever buy a KTM690 Enduro R? Well, if I have money to burn, then yes. But as long as there is an opportunity cost (e.g. going on vacation with the family, fixing up my 1977 Toyota Land Cruiser HJ45, or saving for retirement) then no.