So you are looking for your first bike and are wondering whether a 650 cc is a good beginner motorcycle. I've owned many different 650 cc motorcycles, and ridden many more over the years, and this is what I've learned.
A single-cylinder 650 cc motorcycle may be a good starter bike for tall riders. 650 cc motorcycles with twin- or four cylinder engines are too powerful for a complete beginner. Most modern 650 cc motorcycles are heavy and fast, which will not inspire confidence when learning to ride for the first time.
Let's take a look at the various factors to consider when deciding whether a 650 cc motorcycle is a good starter bike for you. If you are still unconvinced, check out my post on what makes a good beginner bike.
What Makes a Good Beginner Bike?
I know you are looking for answers as to whether a 650 cc motorcycle is a good beginner bike. You may even have a specific bike in mind. Before we dive into the detail, let's take a quick moment to chat about what makes a good beginner bike.
Power is often the first thing riders think about. When you just start out learning to ride, you don't need a lot of power. Yes, you may want to get a bike you can 'grow into' as you progress, but believe me when I say that you will learn quicker (and have more fun!) riding fast on a slow bike instead of holding back on a fast bike.
As you'll see in the next section, 650 cc motorcycles come in a very wide range in terms of power output.
Size is another thing that can be intimidating to new riders. Size may refer to how tall or heavy the bike is.
Seat height is not that important once you are comfortable riding a motorcycle, but for a new rider it is really beneficial to be able to put both feet flat on the ground.
Motorcycles are stable while riding at speed. It is when you stop or ride slowly – like when you are practicing your throttle and clutch control in a deserted parking lot – that balance becomes important and being able to flatfoot it really helps.
For shorter riders, it can often be a problem finding a 650 cc motorcycle with a low enough seat height to put both feet flat on the ground it on either side.
Weight is less important than you might think. Motorcycles are balanced quite well around the center (upright) point and as long as you can touch the ground, it is not difficult to keep a bike upright. It is only when you drop the bike and have to pick it up yourself that weight becomes a real issue.
Drop the bike? Yes, as a new rider, chances are good you'll drop it at least once while learning to pull away or stop. Most 650 cc motorcycles are on the heavy side when it comes to pushing it around the garage or picking it up from the floor.
Cost may be important, especially considering that you might drop the bike a couple of times as you get used to the balancing point. A brand new 650 cc will cost at least $6 699 (Kawasaki KLR 650) and can be as much as $11 999 for the Aprilia RS 660 Limited Edition.
That is a lot of money for something you might scratch up in a carpark, so why not start on a second-hand 250 cc for $3 000? You can always sell it for the same price when it is time to trade up.
Does a 650 cc Have Too Much Power for a Beginner?
Most young riders want as much power as possible when they start out. This can spell disaster for obvious reasons. If you've never ridden a motorcycle before, it will take some time to develop the muscle memory to control the throttle and clutch.
The problem with a too powerful bike is not just about the danger of riding too fast. It affects how quickly you will master good riding technique, how much fun you'll have, and ultimately how good a rider you will become.
If you have to constantly hold back on a bike that can easily do 150 mph (like a Honda CBR 600 RR), you will never develop the right riding skills. If, on the other hand, you start on a slow bike that you have to ride hard to get anywhere, you will very quickly develop good technique at much safer speeds.
Yes, you may have to trade up sooner, but you'll be a much better rider when you end up on that (fast) dream bike of yours.
So, how powerful are 650 cc motorcycles? Well, it depends on what type of engine it has.
650 cc Single Cylinder
Big-bore single cylinder 650 cc bikes (or thumpers) used to be very popular. I've personally owned a few myself, including two KLR 650's, a BMW F 650 and a Honda XR 650 L. They were all amazing bikes and would be perfect for anyone who have ridden a bike before, but who does not have much experience yet.
The KLR 650 and XR 650 L both deliver a very docile 40 horsepower which is good for about 85 mph on a flat road without wind. That's about the same top speed you'll get out of a CBR 250 R (a small, 249 cc single).
If you are a complete beginner that has never sat on a motorcycle before, a tall 650 cc dual sport might be a bit intimidating. The tall seat height and top-heavy weight distribution is more of an issue than the power.
I started on an old 1981 XT 500 which was lower, lighter and less powerful. That said, the jump from the old XT to the 2003 KLR 650 was not that great (apart from the better brakes!).
I can't really think of any street bikes with 650 cc single cylinder engines, but a dual sport is a great place to start. The seating position is comfortable, they aren't very fast, and you can ride almost anywhere from highway to dirt tracks, sand and mud. We've toured Southern Africa extensively on various 650 cc dual sport bikes.
Unfortunately, due to emissions regulations, the primitive big singles are being replaced with more modern twin-cylinder bikes.
650 cc Twin Cylinder
There has been a trend over the last decade of bike manufacturers replacing their 650 singles with twin-cylinder engines. This is mostly due to emissions regulations. It is much easier to get more power from two small cylinders with electronic fuel injection, than from one big cylinder with a carburetor.
Some popular 650 cc twins include the Suzuki SV 650 (often quoted as the best beginner bike) and the Suzuki V-Strom 650 (a mid-range adventure bike). Delivering between 70 and 75 horsepower, both are capable of reaching close to 125 mph.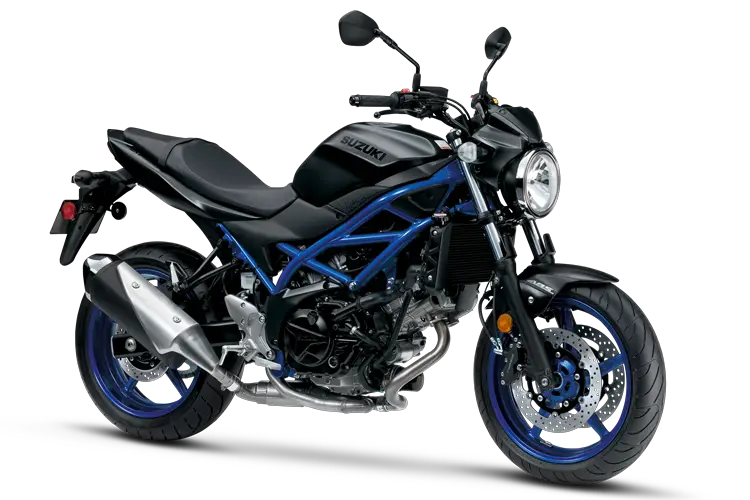 While twin-cylinder 650 cc motorcycles are more than fast enough to land you in serious trouble, the power delivery is smooth enough to control, even for a novice. As with the singles, the bigger issue for the absolute beginner is the weight at crawling speeds.
You will also not be able to ride them flat out without getting yourself killed. And I repeat, riding a slow bike fast will teach you more than riding a fast bike slowly.
650 cc Four Cylinder
I would not recommend a four-cylinder motorcycle to any beginner. They are super fast and the temptation to "just see what it can do" will be very bad for your criminal record and your health.
As an example, the modest (compared to the quick CBR 600 RR) Honda CBR 650 R delivers 95 hp and can do 150 mph. Even the naked CB 650 R is good for around 140 mpg. That is looking for trouble if you've not ridden a bike before.
The other drawback of these street bikes is that they have a less comfortable, forward seating position. They also have a steep rake angle and narrow handlebars in order to make them handle better at high speeds. At low speeds – like when you are practicing clutch-control in the parking lot – they don't handle well and tend to feel like they want to fall over when you turn.
Is a 650 cc Too Big for a Beginner Rider?
The size of the bike depends less on the engine than the seat height and the weight.
Dual sport 650 cc motorcycles or adventure bikes generally have very high seat heights making them difficult to keep upright without both feet on the ground. For a comprehensive post on seat height specs of most modern motorcycles, check out this post.
Street bikes in the 650 cc class will generally have a lower seat height that is suitable to most riders of average length. The problem with street bikes are that they are powerful (especially the four-cylinders) and their steering is set up for fast riding instead of slow speed learning.
Cruisers are heavier than most other types of motorcycle. For an in-depth post on the weight of most motorcycles, check this out. Despite the weight, cruiser bikes are low and slow. Cruisers also have wide handlebars which makes them easier to turn at lower speeds. A good example of a 650 cc cruiser is the Kawasaki Vulcan S.
List of 650 cc Motorcycles (New & Second-Hand)
If you are looking for a new 650 cc motorcycle, here is a list of the specifications of the more popular brands available on the market.
I've included wet (curb) weight in pounds and seat height in inches to allow you to compare the size of each bike. I've also included power delivery (in horsepower) and claimed top speed (in mph) to give you an idea of how much trouble you can get into.
Bike
Category
Wet
weight
(lbs)
Seat
Height
(inches)
Power
(hp)
Top speed
(mph)
Aprilia Tuareg 660
Adventure
449
33.9
80
125
Kawasaki KLR 650
Adventure
456
34.3
35
95
Kawasaki VERSYS 650
Adventure
476
33.1
67
130
Suzuki DR650S
Adventure
366
34.8
43
100
Suzuki V-STROM 650
Adventure
470
32.9
70
125
Yamaha Tenere 700
Adventure
452
34.4
72
125
Kawasaki VULCAN S
Cruiser
496
27.8
54
117
Honda XR650L
Dual sport
346
37.0
40
110
Aprilia RS 660
Street
401
32.2
100
147
Aprilia Tuono 660
Street
403
32.2
100
138
Honda CB650R
Street
445
31.9
82
135
Honda CBR600RR
Street
410
32.3
113
160
Kawasaki NINJA 650
Street
423
31.1
67
131
Kawasaki NINJA ZX-6R
Street
426
32.7
127
175
Kawasaki Z650
Street
412
31.1
68
125
KTM 690 SMC R
Street
324
35.0
74
124
Norden 701 Supermoto
Street
320
35.0
75
120
Suzuki GSX-R600
Street
412
31.9
124
155
Suzuki SV650
Street
432
30.9
75
130
Triumph Tiger Sport 660
Street
454
32.8
80
140
Triumph Trident 660
Street
417
31.7
81
132
Yamaha MT-07
Street
406
31.7
68
133
Yamaha XSR700
Street
410
32.9
74
120
Yamaha YZF-R6
Street
419
33.5
74
165
Yamaha YZF-R7
Street
414
32.9
68
139
Wet weight, seat height, power output and top speed of the most popular 650 cc motorcycles (Source: Various sites on the internet)
If you want to follow my good advice and start out on a used motorcycle – believe me, it is a good idea! – then you can check out this post where I compare some of the 650 cc dual sport motorcycles my friends and I have owned and toured with over the years.
If you are lazy, just watch the video:
Alternatively, go for something smaller to start out on. Even though it is a tall bike, the Yamaha YZ 125 is ultra light-weight and a great bike for learning good riding technique. I give lots of reasons for and against the YZ in this post.
A more sensible beginner bike option, especially if you don't like getting dirty, is the Honda CBR 300 R. I outline lots of good reasons, as well as the most important specs here.
Conclusion
If you've been on smaller motorcycles before and you are comfortable with your clutch and throttle control, a 650 cc motorcycle is a great first bike. The single- and twin-cylinder 650 cc bikes are not too intimidating and you won't outgrow them soon. I suggest staying away from a 4-cylinder 650 cc until you feel very confident in traffic and on the highway.
If you've never been on a motorcycle before, getting a 650 cc is a bad idea. Yes, you might be able to learn on it and get used to it quickly, but you will learn so much faster on a smaller (slower) bike.
Once you start riding a 125 or 250 cc motorcycle hard without feeling uncomfortable, trading up to a bigger bike makes sense. The skills you'll learn trying to keep up with your friends on your small (slow) bike will translate into great command over a bigger bike later.
You'll also have way more fun learning to ride!