Many beginner motorcyclists are drawn to the sport by watching sports bikes race around the race track. It is therefore easy to understand why young (or new) riders want to start off on a 600 cc sports bike. There are many good reasons why this is a very bad idea, but what about an entry level sports bike like the Honda CBR 300 R as a beginner bike?
The Honda CBR 300 R is a good beginner motorcycle because of its modest power delivery, low seat, light weight, and narrow chassis. This makes the CBR 300 R perfect for beginner riders who need to learn balance, and clutch and throttle control. The only downside to the CBR 300 R may be expensive cosmetic damage if the bike is dropped.
When you get onto a motorcycle for the first time, there are so many new things that you need to learn and get used to. The bike that you learn to ride on, will have a big impact on how quickly and safely you will learn. Check out my post on what makes a good beginner bike.
In my opinion, the Honda CBR 300 R is in many ways near perfect as a beginner motorcycle. Here's why…
Here's Why the Honda CBR 300 R is a Good Beginner Bike
Many beginner riders dream of jumping straight on a Honda CBR 600 RR as a starter bike. I've written another post on why this is a very bad idea (check it out here). The Honda CBR 300 R addresses almost all of the issues I mention that makes 600 cc sports bike a bad choice as a starter bike.
When you learn to ride a motorcycle for the first time, the first thing you need to get used to is slow speed balance. Once a motorcycle starts moving, balance becomes less of a problem. A good beginner motorcycle has a low seat so you can firmly plant your feet on the ground and is not too heavy. This is where the Honda CBR 300 R is perfect. With a seat height of just over 30 inches and a wet weight of 357 lbs, most riders won't have trouble keeping it upright. The narrow chassis of the CBR 300 R also means that your legs are closer together, assisting in keeping your feet on the floor.
The light clutch and small displacement of the CBR 300 R is very forgiving. This is especially helpful while a beginner rider is still getting used to balancing the throttle and clutch when pulling away. With around 35 hp of power and 23 Nm of torque, you won't be punished for every small mistake you inevitably make while still learning to ride. Yet, it is still enough that most riders can grow into the bike as they progress and get more comfortable.
With good spacing in the gearing, a fairly comfortable seating position somewhere between a commuter and a sports bike, and a reasonable price tag, the CBR 300 R is hard to beat as a starter bike.
Many new riders are worried that they will outgrow their first motorcycle too quickly and will then need to upgrade to a faster, bigger bike. That's where the CBR 300 R is perfect. With a flat torque curve you can ride hard throughout the entire rev range. This is not possible on a 600 cc where low engine speeds are modest, but higher up will kill you.
The CBR 300 R is docile and forgiving for cautious riders, but has just enough (but no more) go juice if you wind it up and ride it hard. It can do 70 mph on the freeway for as long as your body can maintain the forward riding position. On public roads, the softer (than a 600 or 1 000 sports bike) suspension with more travel, won't translate each minor bump in the road into your spine.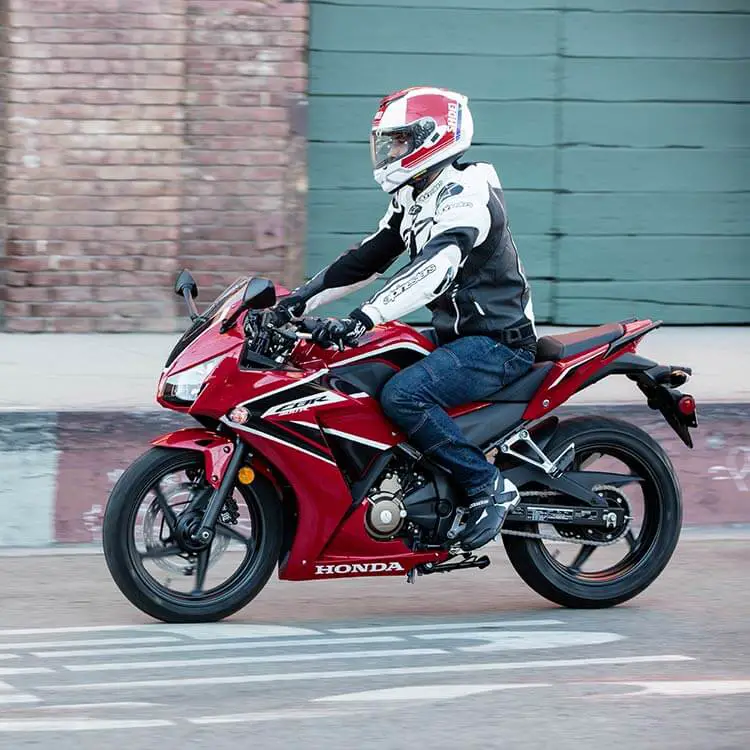 Yes, the narrow tires won't be as stable at highway speeds and the racing position is less uncomfortable than a dual sport, but you get to pretend you ride a race bike. And for an extra $200 (at $4 999) you get ABS!
Finally, since you'll almost certainly be dropping your first bike a few times, a fairly cheap bike that you don't worry too much about is the way to go. Insurance will also be less on a CBR 300 R than on a 600. And since it is light, you won't have trouble picking up the bike on your own. Arguably the only better sports bike than a CBR 300 R is a second hand Honda CBR 250 R. It will already be scratched up before you drop it and it will depreciate less before you trade up to your dream bike.
What about a dual sport like a CRF 300 L? Those are great bikes, especially if you plan to hit the dirt. But dual sports are tall and top heavy. Something like a Honda Trail 125 is perfect, but you'll probably outgrow it quickly.
Whatever you decide, wear proper riding gear and the best helmet you can afford, like this reasonably priced Arai Regent-X.
Reasons Not to get a Honda CBR 300 R as a Starter Bike
While the CBR 300 R is the perfect starter bike, there are some valid reasons to look elsewhere.
I would never recommend that a complete beginner rider buy a new bike. It is not a question of 'if' you will drop your bike, but 'when'. The CBR 300 R has plastic fairings like a sports bike that will most likely get damaged when dropped in a carpark. It is exactly during this time, while getting used to balancing at walking pace and the feeling of the clutch biting, that most riders drop their bikes. I would highly recommend starting on a second hand bike, or a bike without plastic fairings like the Honda CB 300 F.
Your first bike will most probably not be your last bike. After a few months of riding, especially on a slower bike, you'll want to trade up to something more powerful. A new bike will depreciate much more than a second hand bike. This is not a disadvantage of a Honda CBR 300 R specifically, but rather of any new bike. That's why a good second hand 250 is my first choice.
The forward riding position, while not as aggressive as a CBR 600 RR, will still be tiring on your back and wrists. So if you plan on spending a lot of hours practicing your basic riding skills, a more comfortable option would be the CB 300 F. It has wider handlebars and foot pegs, and the seating position is more neutral (and upright) like a dual sport.
Finally, if you live in a small town where most of the road you'll be riding are highways and freeways, a slightly larger bike like the CBR 500 R may suit you better, as you will struggle less to keep up with fast traffic. In town or on mountain roads, the CBR 300 R will be just fine (and maybe even more fun).
Specifications of the Honda CBR 300 R
So I've managed to convince you to at least consider the CBR 300 R as your first bike. Before you put down the deposit, go buy a good quality helmet. If an Arai is too expensive for you, the Scorpion EXO-R420 is a cheap Snell-approved alternative.
Here are the basic specifications of the 2021 Honda CBR 300 R:
Price (US Dollar)
$4 799 (No ABS)
$4 999 (with ABS)
Engine capacity
286 cc
Gearbox
6-speed
Power output*
30 hp @ 8 500 rpm
Torque*
27 Nm @ 7 250 rpm
Front brake
296 mm single disc
Rear brake
220 mm single disc
Seat height
30.7 inches
Curb (wet) weight
357 lbs
Fuel capacity
3.4 gallons
Compression ratio
10.7 : 1
* as reported by MotorBikeCatalogue
For more images and information on the features of the Honda CBR 300 R, visit Honda's official website. You can also read more from CBR 300 R owners in the CBR 300 R Forum.
Conclusion
So, is the Honda CBR 300 R the perfect beginner bike? Yes and no. Ideally, I'd go for something second hand with a more neutral seating position. But if you have your heart set on a new sports bike, the CBR 300 R may be just the bike for you.
Ride safe!