Most modern adventure bikes make very comfortable long-distance touring bikes, but they rarely see any dirt roads. There are a few adventure bike models, however, that do as well off-road as on the tarmac. Three of the most capable adventure bikes in the dirt are the Yamaha T7, KTM's 890 Adventure R and the Honda Africa Twin.
Before we discuss some of the differences between them, as well as their relative strengths and weaknesses, let's take a quick look at the specifications comparison between the Yamaha T7, the KTM 890 Adventure R, and the standard Honda CRF1100L Africa Twin:
 
Yamaha T7
KTM 890
Adventure R
Honda CRF1100L
Africa Twin
Engine
689 cc parallel-twin
889 cc parallel-twin
1 084 cc parallel-twin
Price
$10,299
$14,599
$14,499
Power
72 hp (54 kW)
@9 000 rpm
105 hp (78 kW)
@ 8 000 rpm
101 hp (75 kW)
@7 500 rpm
Torque
50 lb-ft (68 Nm)
@ 6 500 rpm
74 lb-ft (100 Nm)
@ 6 500 rpm
77 lb-ft (105 Nm)
@ 6 250 rpm
Curb (wet) weight
452 lbs (205 kg)
463 lbs (210 kg)
505 lbs (229 kg)
Suspension (fork diameter)
43mm
48mm
45mm
Suspension travel (f/r)
211/201 mm
240/240 mm
231/221 mm
Seat height
874 mm
880 mm
851-871 mm
Wheelbase
1 595 mm
1 528 mm
1 575 mm
Ground clearance
9.4 inch (239 mm)
10.3 inch (263 mm)
9.8 inch (249 mm)
Tank size
4.2 gal (16L)
5.3 gal (20L)
5 gal (19L)
Wheels
Tube type
Tubeless
Tubeless on ES model
Ride modes
N/a
Street, Rain,
Offroad, Rally (optional)
Tour, Urban,
Gravel, and Off-Road
TPMS
N/a
Optional
N/a
Heated grips/seats
N/a
Optional
ES model
Cruise control
N/a
Optional (switch is there)
Standard
Specifications comparison between the Yamaha T7, KTM 890 Adventure R, and Honda CRF1100L Africa Twin
Some might argue that these bikes are not directly comparable. I think they are and here's why.
All three have parallel-twin engines. Even though they differ in size and power delivery, all three have more than enough power to go way beyond any national speed limit. All three can take a passenger and luggage, and are equally capable off-road and on.
Deciding between the T7, 890 Adventure R, and Africa Twin will be easy if you are biased (like be) to a specific brand. But for some, the choice is not as clear cut. Obviously, nothing will beat a test ride on each of the machines on your shortlist, but if you are still in the research phase, let's have a look at some of the things you may want to consider.
Price
The KTM 890 Adventure R and the standard Honda Africa Twin basically cost the same in the U.S. at $14 500. At $10 299 the Yamaha T7 is considerably cheaper. This big price difference is mostly due to the smaller engine and lack of electronic safety features and rider modes. The Yamaha also does not have a TFT screen like the Honda and KTM.
If you are the type of rider that prefers the latest tech and more power (on paper) than your riding buddies, the $4 000 price difference may be justified. For me, who just want a motorcycle with wheels and an engine (instead of a computer that does a bunch of stuff for you), the T7 offers much better value for money.
Weight
Adventure bikes are getting heavier with each new model release. For a detailed post on adventure bike weight, check out this resource I've compiled. The average adventure bike weighs 501 lbs, which means that the Honda Africa Twin (at 505 lbs) is about right for a large adventure bike with a liter engine.
At a wet weight (fully fueled) of 463 lbs, the KTM 890 Adventure R is quite a bit lighter than the Africa Twin, despite having a slightly larger gas tank. The Yamaha T7 is unsurprisingly (thanks to its smaller engine and gas tank) the lightest of the three at only 452 lbs.
I rode a T7 and I can confirm that it does not feel top heavy, even with a full gas tank (which sits higher than the KTM 890). The bike handles very well and in the right hands, can do some pretty insane stunts.
Power
Unsurprisingly, the Honda Africa Twin and the KTM 890 Adventure R have quite a bit more torque and power than the Yamaha T7 with its much smaller engine. What is interesting to note is that the big 1 084 cc Africa Twin only develops 5% more torque and 4% less power than the KTM 890, even though it has an engine that is 20% larger.
This suggests that the Honda is in a lower state of tune and possibly less stressed than the KTM. That, in turn, will most likely result in a more reliable engine that will last much longer. I could have stopped there and chalk it up to Japanese reliability, but the same logic has to be tested between the smaller Yamaha T7 and the KTM 890 Adventure R.
The 890 has an engine capacity that is 29% larger than that of the Yamaha T7, yet it delivers 47% more torque and 44% more power. Proportionally, that is a huge discrepancy that supports the highly strung nature of the KTM.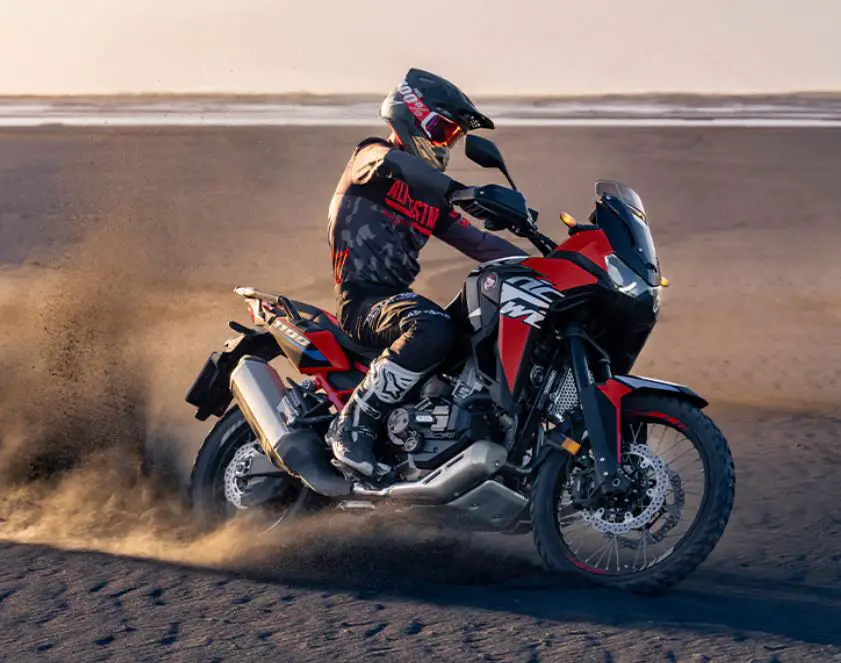 Incidentally, the Honda Africa Twin's engine is 57% bigger than the Yamaha's and develops 54% more torque. Far from being scientific, it does support the hypothesis that the Japanese all follow a more conservative design approach when it comes to their engines.
What does all of this mean for the average rider who is interested in one of these adventure bikes? Admittedly, not much. They all deliver more than enough power to cruiser all day at 100 mph (which is already illegal almost everywhere in the world). They will all last a long time if you look after them, but the Honda and Yamaha will likely (with lost of anecdotal evidence to support it) last a bit (or much, even) longer. [Wow, that last sentence… – Ed]
Features
This is where the Yamaha forged its own path among ever-evolving tech machinery in the adventure bike market. The T7 is the only modern, multi-cylinder adventure bike that does not have traction control or rider modes.
Most new adventure bikes have much longer lists of electronic safety and luxury features, like cruiser control, lean-sensitive ABS, hill hold assist, fancy TFT screens, and more. The Yamaha T7 has ABS, mostly due to European regulations insisting on it.
I am not going into the detail of the electronic wizardry of the KTM or Honda, but I will single out KTM's unique traction control system that can be dialed in to the exact amount of rear wheel spin you desire. Very cool! And the Africa Twin comes standard with cruise control, a function that is an optional (expensive) extra on the KTM and even the big BMW R1250GS Adventure!
Personally, I prefer the Yamaha T7's simplicity. More electronics, means more that can go wrong to leave you stranded in the desert. The Yamaha's simple ABS system can also be switched off entirely with the push of a button. A very welcome feature among bikes that can't even switch off the ABS at all (e.g. the Suzuki VStorm 1050XT).
Off-road
All three these bikes has long-travel suspension and good ground clearance. In both categories the KTM takes the win on paper, with 240 mm suspension travel front and rear, and 263 mm of ground clearance.
Let's be honest. Neither of these adventure bikes were designed to tear up a motocross track or race down a single track in the mountains. They are far too big and heavy to muscle around like a dirt bike. But anyone who watches YouTube or follow riders like @poltarres13 or @endurak666_ on Instagram will know that, between the right legs, these machines can do insane stunts.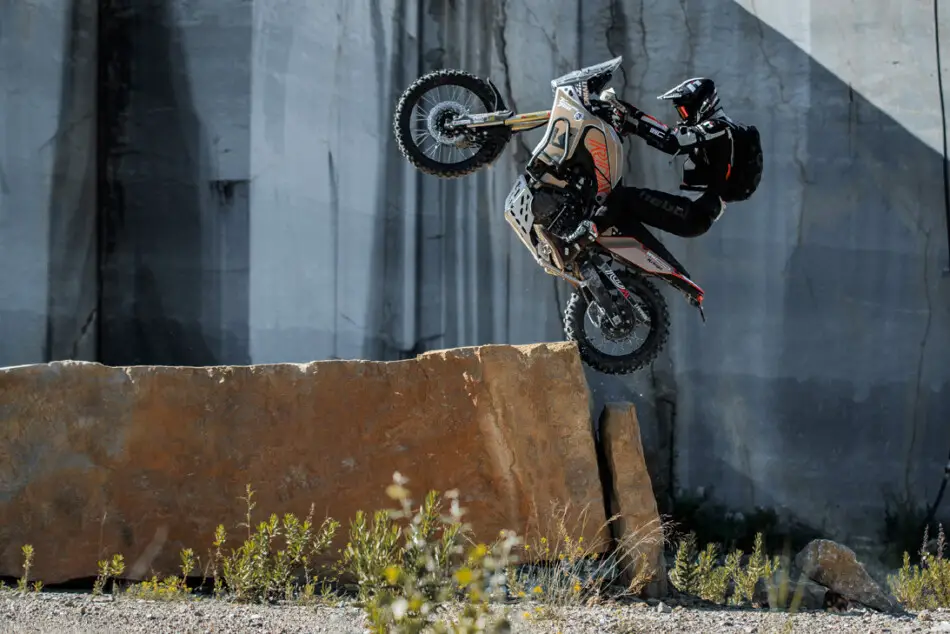 These riders are masters at trials riding and they understand the balance of these big bikes. There's no way you can fight a 450 lbs adventure bike into line with your hips and legs. Instead, you need to use the clutch and the bike's natural balance point to get it to do what you want it to.
I don't know about the KTM 890, but both the T7 and the African Twin can survive quite a beating from what I've seen at the hands of these maniacs.
Reliability and cost of ownership
I'm not going to pretend that I've owned any of these bikes to know for sure, but I am willing to put good money on either the T7 or the Africa Twin being more reliable and cheaper to own than the KTM. And if I had to buy a new bike (any bike), it would have to be the Yamaha T7.
The Yamaha's CP2 engine has proven itself as one of the most reliable motorcycle engines. Add to that the lack of electronics and a breakable TFT screen, and you've got yourself a bike that can go anywhere and keep doing so for a long, long time.
Conclusion
I recently test-rode the Yamaha T7. All I need now is enough money to buy one. So if you are keen to pitch in, please go buy me a coffee.
Cheers