The Yamaha YZ 125 has the potential of being the best or the worst bike for a beginner rider looking for his or her first motorcycle. I know, that's hardly helpful, but in this post we'll cover everything you need to know in order to decide whether the YZ 125 is right for you.
The Yamaha YZ 125 is perfect for beginners who want to learn the correct clutch and throttle technique. The YZ 125 has more than enough power, but you have to work hard to harness it. Beginner riders may be intimidated by the YZ 125's 38.2 inches tall seat height and the sudden burst of 2-stroke power could land you on your backside.
Whether the Yamaha YZ 125 is a good beginner bike or not, really depends on what your goals are as a new motorcycle rider. Check out my post on what makes a good beginner bike. In this post, we'll take a closer look at the YZ 125 as a starter bike.
Reasons Why the Yamaha YZ 125 is a Great Beginner Bike
There are many reasons why the Yamaha YZ 125 is a great beginner bike. Before you buy one, however, please read the next section of why it may not be the best starter bike.
Oh, and before you get only ANY dirt bike, get yourself a DOT and ECE 22-05 approved helmet like this reasonably-priced O' Neal 5 SRS off Amazon.
Here are 4 reasons why the YZ 125 is a good beginner motorcycle:
The YZ 125 is light weight
The 2022 Yamaha YZ 125 only weighs 208 lbs (94 kg) ready to ride. That puts it in the bottom 12% of all motorcycles in terms of weight. For a complete post on the weighs of 329 different motorcycles of all types, check out this post.
Starting out on a light-weight bike will help you gain confidence faster. Once you are more experienced, the weigh of your bike becomes irrelevant. It is during those early stages of learning to ride – while you are still getting used the balance of the machine – that it really helps to have a light bike.
It will also be much easier to pick up a light bike in the inevitable event of dropping your motorcycle while learning balance and clutch control. A light bike is also easier to move around the garage or load onto a trailer.
In comparison, the similar sized Yamaha YZ 250 weighs 227 lbs (103 kg). The YZ 125 will be easier to flick around a technical trail and require less physical input from the rider to throw it around tight corners.
The YZ 125 is a full-sized dirt bike
The Yamaha YZ 125 is exactly the same dimensions as the bigger YZ 250. This can be a pro or a con, depending on how you see it. If you start out on the YZ 125 because it is lighter and less powerful, at least you won't outgrow it physically like you would on a smaller bike.
The YZ 125 is a full-sized race machine capable of holding its own against 250 cc two-strokes and even 450 cc four-strokes if piloted by an experienced rider. This means you can plod along while you are still learning, and then let her rip as you get better.
With full race suspension, you can jump a YZ 125 as high as any other motocross bike without fear of it disintegrating upon landing. The ability of the YZ 125 to go fast depends mostly on the rider's skills.
The YZ 125 will make you a better rider
Due to the way in which the YZ 125 delivers it's power, you need to be deliberate in the way you ride it in order to be quick. There's a lot less torque low down than on the YZ 250, which means you need to slip the clutch more often to power up obstacles or out of corners. This will force you to develop good riding technique from the start.
On a 250 with lots of low-down torque, it is much easier to putter along at low speeds without fear of stalling the bike. This may lead to lazy habits down the road. The YZ 125 will be harder work initially, but once you master it, you'll be a much better rider when (or if) you upgrade to a more powerful bike one day.
Riding a slower bike fast is also a lot more fun than holding back on a faster bike. You'll feel like a professional because you'll be working hard at riding fast, but you'll not actually be travelling as fast as on a 250 or 450.
The YZ 125 is cheap to maintain
Being a Yamaha, Japanese reliability is a given on the YZ 125. The YZ 125 has been in production since 1974, which means every little problem has been sorted out or improved upon over decades.
The Yamaha YZ 125 is a two-stroke, so maintenance will be cheap and easy to do yourself. There are no valves to adjust and a top-end rebuilt can be done by anyone with basic hand tools and some affinity for getting their hands dirty.
After-market parts are widely available to service or modify the YZ, so you won't be waiting for weeks for components from overseas.
Reasons Why the Yamaha YZ 125 is a Terrible Beginner Bike
By now you're probably ready to put down a deposit on a new Yamaha YZ 125 or you are browsing the classifies for a second-hand one. Stop! Read on to find out why the YZ 125 is not a great beginner bike.
The Yamaha YZ 125 is very tall
When you are just starting to learn how to ride a motorcycle, it helps tremendously if you can plant both feet flat on the ground on either side of the bike. This will help you keep the bike upright while you focus on clutch and throttle control. It will also give you more confidence than a bike that is way too tall.
At 38.2 inches (980 mm), the Yamaha YZ 125 is the motorcycle with the tallest seat height of any motorcycle. Very few riders will be able to flatfoot it on either side. This is not a deal breaker if you can already ride, but as a starter bike it is a bad idea.
For a list of seat heights of most motorcycles, as well as things to consider when it comes to seat height, check out this post.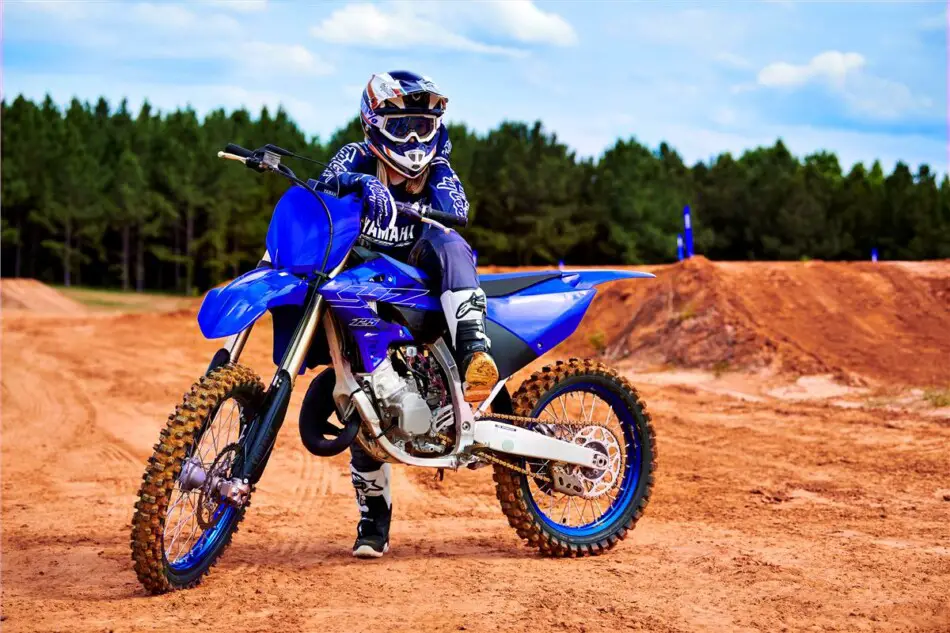 The YZ 125 is so tall due to its long-travel racing suspension. That's good for taking large jumps, but bad for parking-lot practice. Rather start on a much lower Yamaha TT-R 125 LE instead.
The YZ 125 is easy to stall
Because of the relatively low torque at low rpms, the YZ 125 is easy to stall. If you don't give enough gas when letting out the clutch, you're not going anywhere. This may complicate things when you are getting used to clutch and throttle control as a complete beginner.
A four-stroke delivers more linear torque which is what you need if you are new operating a clutch and throttle. That doesn't mean all two-strokes are difficult. In a way, the low torque means you can be quite aggressive with the throttle when you pull away. The problem comes in when you overdo it (see the next point).
When the YZ 125 power comes, it comes suddenly
Most two-stroke motorcycles have a steep torque curve after an initial flat spot. It is referred to as the power band. This kick in the pants is what makes two-strokes way more fun to ride than four-strokes. On more powerful dirt bikes like the YZ 250, this powerband is less of a surprise, because there is already a lot of torque low down.
On the YZ 125, however, the power kicks in very suddenly. There's nothing… nothing… and wham! you are wondering why you are sitting on the ground behind your bike. This is totally fine if you expect it and know how to ride. But for a beginner, this can be quite intimidating.
The YZ 125 takes skill to ride fast (and slow)
Due to the way that the power is delivered very suddenly, it takes a lot of skill to ride the YZ 125 fast. This may be very frustrating for a new rider who is riding with friends on 250 cc two-strokes. A 250 has enough torque at low rpms to make it easy to ride at decent speeds along forest trails.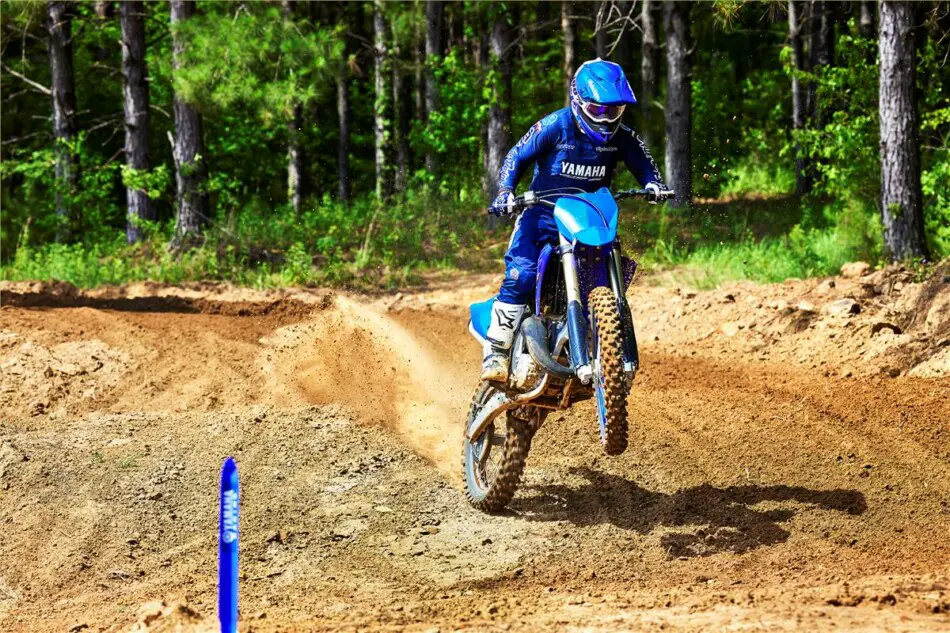 On a YZ 125, you'll be constantly clutching the bike to get going. When the power eventually kicks in, you'll be off the gas again to enter a corner. This is great for learning how to ride properly, but not very relaxing if all you want to do is ride. The YZ 125 is not easy to ride slowly, so if you are looking for a bike to explore the woods and trails, get a four-stroke.
Yamaha YZ 125 Specifications
The Yamaha YZ 125 has been around since 1974 and has seen some major upgrades over the decades. At some stage, I will update this page with all the specs of the different iterations. For now, though, here are the specs for the 2022 Yamaha YZ 125.
| | |
| --- | --- |
| Engine | 125 cc liquid-cooled 2-stroke |
| Gearbox | 6-speed |
| Fuel delivery | Keihin PWK38S carb |
| Suspension travel (front) | 11.8 inch |
| Suspension travel (rear) | 12.4 inch |
| Brakes (front) | 270 mm disc |
| Brakes (rear) | 240 mm disc |
| Seat height | 38.2 inch |
| Ground clearance | 14.4 inch |
| Fuel capacity | 1.8 gal |
| Wet weight | 209 lbs |
Yamaha YZ 125 specifications as per the Yamaha USA website
Conclusion
If you've read this far and you are still wondering whether you should get a Yamaha YZ 125 as your very first motorcycle to learn to ride on, here's what I think:
DON'T: If you just want to learn to ride a motorcycle and you are planning on riding something else in future, like a road or an adventure bike, don't get a YZ 125. It is too tall and the power-delivery will frustrate you. Get something comfortable where you can put both feet flat on the ground.
DO: If you have your mind set on riding dirt bikes or you want to get into competitive riding like motocross or hard enduro, get a YZ 125. Not only will it teach you to ride with the correct technique, but you also won't outgrow it soon. Yes, a YZ 250 will be quicker, but on a 250 you'll get away with a lazy style which will catch up with you in the long run.
Start on a good secondhand YZ 125 and you won't even lose money when (or if) you upgrade one day.
Happy learning to ride!