When my wife wanted to start riding a few years ago we started looking for a comfortable motorcycle for her. We settled on an adventure bike as it ticked the most boxes in term of rider comfort.
Adventure bikes are very comfortable due to its upright ergonomics, wide handlebars, long-travel suspension, big wheels, comfortable seats and a tall windscreen. Electronic rider aids like traction control, ABS and engine power modes add to the comfort by requiring less concentration from the rider.
While there are other types of bikes that may beat an adventure bike on one or two elements of comfort, no other bike comes close to the overall comfort of an adventure bike.
Here are 7 reasons why adventure bikes are very comfortable:
#1: Comfortable ergonomics
Adventure bikes arguably have the most comfortable riding position. The combination of low foot pegs and high handle bars equates to a neutral, upright seating position. This reduces the pressure on the riders knees, back and legs.
There is no weight on the wrists and arms as with a super bike and there is no need to hang from the handlebars like on a cruiser. This means your head is neutral which is good for forward visibility and not that hard on your neck muscles.
On an adventure bike is it very easy to stand up while riding. This is very useful on uneven surfaces or for stretching your legs on a long ride. It is also a necessity if the going gets tough, for example in sand or over rocks.
The only downside of adventure bikes are that they are tall and often very heavy. Many brands have lower seat options (like the BMW R 1250 GS and the Triumph Tiger). It is also possible to lower the suspension on most models. The Kawasaki KLR 650, for instance, can be dropped by 4 inches with lowering links like this.
#2: Wide handlebars
Adventure bikes have wider handlebars than road bikes. This makes it much easier to steer at low speeds. It is also much easier to control an adventure bike at standstill with the added leverage offered by the wide handle bars. This greatly adds to rider confidence.
#3: Long travel suspension
Cruisers have lower seat heights and even wider handlebars, but the downside is the harsh ride. Adventure bikes have long travel front and rear suspension to soak up uneven roads. On smooth tarmac, many other bikes will do just as well, like large touring bikes. It is when the tarmac ends where adventure bikes just keep going comfortably.
On gravel roads there are just no other bike that is as comfortable as an adventure bike. Sure, dirt bikes will do better over the really rough stuff and for short distances. On a adventure bike you can ride comfortably on gravel all day.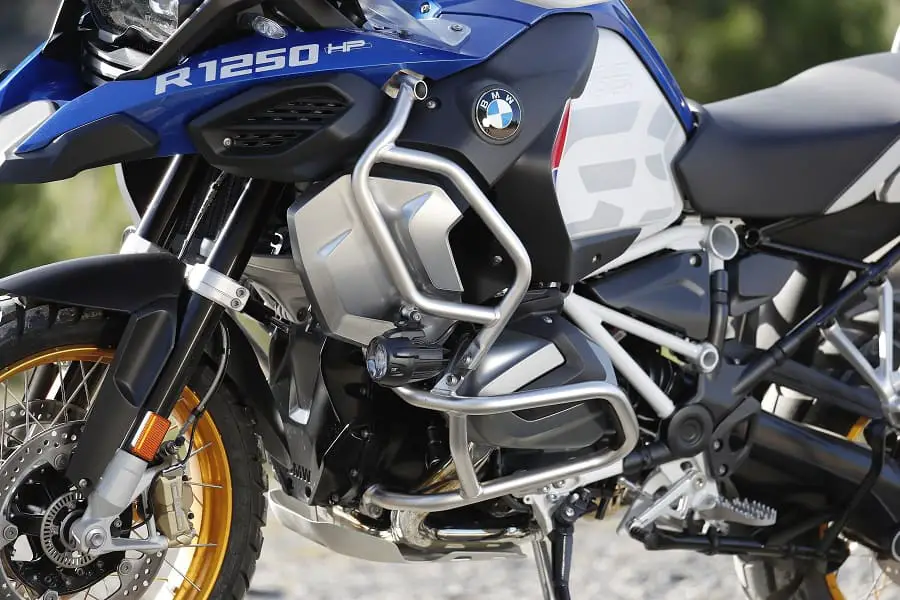 Many modern adventure bikes has adjustable suspension, so you can even set it to suite different road conditions. Firm it up for a twisty tarred mountain pass or softer for a corrugated dirt road in the desert. There is no other type of bike that comes close in terms of versatility.
#4: Large wheels
Large diameter wheels with a bigger circumference means that you can roll over uneven surfaces more smoothly. That's why most mountain bikes now feature 29 inch wheels instead of 26 inch. It is much easier and safer to hit a pothole with a big wheel, as it just rolls over it. Big wheels will also make corrugated dirt roads less jarring and it is easier to ride over a rock instead on into it.
Adventure bikes usually have very large front wheels that will most easily clear obstacles. The wheels are also shod with higher profile tires to soak up bumps even better. Think of the difference between a Jeep and a Porsche 911 on a dirt road. The more rubber and air in the Jeep's tires will be much more comfortable and safe than the low profile rubber on the 911.
#5: Comfortable seats
With the exception of superbikes and custom cruisers, most bikes have fairly comfortable seats. Touring bikes can even feel like a cushioned couch. Adventure bike manufacturers specifically design their seats with long distance riding in mind. The seats are wide with comfortable cushioning and a neutral position.
It is not only the rider that sits pretty, as most adventure bikes are designed to keep both rider and pillion comfortable on long rides. Some newer bikes even have heated seats.
For shorter riders, some bikes have lower seats as optional extras. BMW Motorrad offers seat height options for almost all their motorcycles. With minimal tools the seats can be reduced by as much as 2.8 inches.
#6: Electronic rider aids
In the past it used to be only the top of the range adventure bikes that had electronic rider aids. These days, many entry level models features ABS, traction control and brake assist. The added piece of mind makes for a more comfortable riding experience.
Many modern adventure bikes now also have electronically adjustable suspension and engine mapping modes. While these big machines are super powerful and quick, it is possible to de-tune the engine with the push of a button. This is especially useful on wet roads or on loose gravel where you risk spinning out of control with too much power.
Most bigger adventure bikes now feature cruise control as standard and some are even busy developing adaptive cruise control (ACC). Cruise control allows you to give your right-hand wrist a rest while maintaining your cruising speed. With ACC the rider sets the speed and following distance, and the bike does the rest. If the car in front slows down, the bike will close the throttle or even apply the brakes. As soon as the vehicle speeds up again or changes lanes, the bike will accelerate on its own up to the set speed. Check out the video from KTM below for more detail.
Some bikes even has heated grips. While it sounds like a gimmick, it really makes a huge different in the freezing cold.
#7: Tall windscreen
Riding at 75 mph, the elements plays a big role in the comfort of the rider. Adventure bikes usually have large windshields to keep the rider (mostly) dry in the rain and completely protected from the wind. No more sore necks! It also makes a big difference in the cold.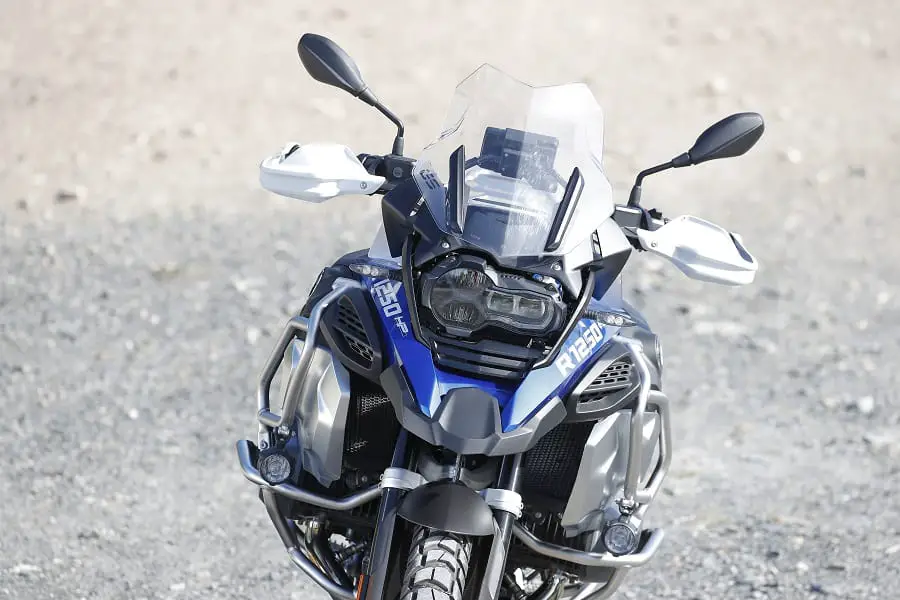 Conclusion
Adventure bikes are big, heavy and powerful machines. It can be quite intimidating standing next to one for the first time, especially if you are vertically challenged. But once you get going, there are few bikes as comfortable as an adventure bike. I've seen short women ride big BMW R 1200 GS's in less than ideal conditions without any problems.
The great comfort of adventure bikes makes them ideal for commuting. If you are into long distance touring, however, there are few bikes that come close, especially if you are planning to go off the highways.
Once you get going and become used to the tall ride height, the bike will feel like it shrunk under you. If you are new to biking and in the market for your first ride, the comfort that adventure bikes offer is definitely worth a second look.
Related Questions:
What do You Need to Consider Before Going on an Adventure Bike Trip with Your Wife?
Before embarking on a long adventure bike trip with your wife, there are a few important things to consider. This article on 5 things to consider before going on an adventure bike trip with your wife shares the experience we gained on our 90 day Cape to Cairo trip.