To the untrained eye it may be difficult to spot the difference between a 600 cc and a 1000 cc sports bike standing side by side. The only apparent difference is the stickers indicating 600 cc and 1000 cc on the fairings. Before my first time on both, I always wondered what the differences are between a 600 cc sports bike and a 1000 cc.
The average 1000 cc sports bike has 70% more horsepower than a 600 cc but only weights 6% more. Some riders suggest that a 1000 cc is better for everyday riding due to more low-down torque that requires less gear shifting. Others feel a 600 cc is already too fast for the average rider and that a 1000 cc on the street is looking for trouble.
Yes, a 1000 cc sports bike is way more powerful than a 600, but there's a bit more to it than that. Just search the forums and you'll quickly see that you are going to have a tough time finding consensus. In this post I've summarized the main differences I've found in my research on the topic. I've also included my own experience having ridden both the Honda CBR 1000 RR Fireblabe and the CBR 600 RR multiple times.
Before you read on, if you are going to get a sports bike make sure you get the best lid you can afford! I know Arai's are expensive, but I've owned mine fore more than 10 years now and I am extremely happy with it. You can look up the latest price of the new version the mine, the Arai Quantum-X here (on Amazon).
Main Differences Between 600 cc and 1000 cc Sports Bikes
Apart from the price, there are other obvious (and non-obvious) differences between 600 cc and 1000 cc sports bikes. It is easy to think that a 1000 cc will always be better than a 600 cc, except maybe if you are inexperienced. But it's a little more complicated than that and for some it may even be a difficult decision.
Power
The obvious difference between a 600 cc sports bike and a litre bike is the power. A 600 looks very much like a 1000 and is already quick enough to land you in very serious trouble, so it is easy to think the difference in power can't be that much. Guess again! The average jump in power of the four Japanese superbikes in this article is 70% (from 115 hp to 196 hp).
To give you an idea how far apart some 600s are from their 1000 cc big brothers, just look at the Suzukis. A GSX-R600 delivers 104 hp, while a GSX-R1000R is nearly double that at 199.2!
Then you have to remember, a 600 and a 1000 weight almost the same (6% difference on average), but the litre bike's engine is 400 cc (67%) bigger which means on average 78% more torque. And that is important as we shall see next.
Where torque is delivered
These bikes were designed with one thing in mind: To go fast around a race track. That's how the ergonomics are set up and that how they are geared. Even though a 600 cc is way too fast for the road if ridden high in the rev range where maximum power is delivered, at 4 000 rpm it's dead. On a 600, the engine needs to be spinning at around 7 000 at least before it starts to wake up. This means more gear changes to keep the bike moving in traffic and on the highway.
On a litre bike, however, there's just always enough torque regardless of engine speed. Open the throttle at 4 000 rpm in any gear and you're off. Some riders prefer this, saying that they're lazy to shift often and just want to be able to twist the throttle to drop traffic if the need (or desire) arises. At 7 000 rpm on a 1000 cc sports bike, you'll be going way too fast.
Usability of the power
If you've never been on a sports bike before, the forums on the internet can be very misleading. Some riders would say a 600 cc is too slow low in the rev range and that a 1000 cc is more comfortable due to the low down torque. The reality is that both have more than enough power for any legal speeds, but you will need to practice restraint on the 1000.
It is on the track that the difference become significant. In a straight line, the 1000 cc will drop the 600 every time. That doesn't mean that the 600 cc sports bike will always lose to the 1000. Inexperienced riders will be able to lay down the power more consistently, accelerating out of a corner on a 600 cc sports bike.
On a 600 it is possible to open the throttle wide open much earlier without fear of lifting the front wheel or spinning up the rear tire while still leaned over. This makes the 600 a much better bike to learn to ride fast on. The confidence to ride much harder will make you learn much quicker. On a 1000 cc sports bike a beginner rider will have to hold back all the time.
On both bikes, only a small percentage of riders will have the skills to out-ride the bike and only a professional rider will be able to push the limits of a 1000 cc sports bike.
Corner speed
If you look at pro riders on a race track, the way a 600 corners fast is different from a litre bike. A 600 will carry more speed throughout the turn by going in faster and rolling on maximum power earlier. On a 1000 the rider will cut more speed before the corner, turn in sharper and use the mountain of torque to accelerate out hard.
Amateurs are often slower around a bend on a 1000 cc due to holding back and then has to make up for it on the straight, wasting power.
Size and weight
Some bigger riders mention going for a 1000 cc purely because it is more comfortable. At 6 foot dead I have a fairly average build and found the Honda CBR 600 RR just perfect. While the difference is not too much, the 1000 cc Fireblade had me reaching a bit further over the tank.
In terms of weight, the average 600 cc sports bike comes in at 424 lbs with the 1000 carrying around 24 lbs more. That's only 6% more, which is nothing considering the additional 400 cc (and an average power jump of 81 hp). For inexperienced riders, seat height is often more important than weight (to find out why, see this post).
The difference in seat height within the same brand is negligible with the biggest difference being the Suzuki GSX-R1000R being 0.6 inches taller than the GSX-R600.
600's are more fun
I can't speak with authority on track use (which is where these bikes are in their element), but on the road I had way more fun on the CBR 600 RR than the 1000 cc Fireblade. The 600 cc needs to be wound up more to get going and gearshifts are needed to keep up the pace over a mountain pass. It makes for a more engaging ride than simply twisting the throttle in any gear to move the 1000.
I remember wondering what it would feel like to ride the CBR 1000 RR Fireblade at 13 000 rpm (where maximum horsepower lives). On the street, there's just no legal way to find out. I reached 96 mph in first gear without hitting the rev limiter. That's no fun. You can ride a 600 harder (not near the redline though!) than the 1000 cc without landing in trouble. The 600 cc is more forgiving too.
The 600 cc is definitely the better bike to learn on, even on a track. I'd rather ride a 'slow' bike fast, than a fast bike 'slow'.
Specifications of 600 cc vs 1000 cc Sports Bikes
For some reason, none of the manufacturers (apart from BMW with their S 1000 RR) quote power and torque figures on their websites. It's no surprise, as the BMW S 1000 RR beats all the Japs on power and weight by some margin! I've never tested a bike I liked as much as the S 1000 RR before.
I had a tough time finding the stats for each bike and often had to check multiple motorcycling magazine websites to find test results. There were a few discrepancies here and there, but I tried to corroborate the figures with at least one other site.
Honda CBR 600 RR vs Honda CBR 1000 RR Fireblade
Most sites I visited only had the specs for the new Honda CBR 1000 RR-R Fireblade SP. Wow, what a bike… just check the video below where Marc Márquez rides it around a race track. But at $28 500 for the SP, you can get a 600 and a 1000.
In the table below you'll notice that the CBR 600 RR and the Fireblade weight almost the same and has the same seat height, but the 1000 delivers 72% more torque. The difference in acceleration cannot be ignored.
Honda
CBR 600 RR
Honda
CBR 1000 RR
Difference
Price
$12 799
Non-ABS: $11 799*
$16 949
+32%
Power (hp)
113
189
+67%
Torque (lb-ft)
48.7
84
+72%
Power/Weight (hp/lbs)
0.26
0.43
+64%
Weight (lbs)
434 (410*)
443
+2%
Power peak (rpm)
13 500
13 000
Torque peak (rpm)
11 250
11 000
Redline (rpm)
15 000
14 500
Compression Ratio
12.2 : 1
13 : 1
Seat height (inches)
32.3
32.3
Tank Capacity (gallons)
4.8
4.3
Honda CBR 600 RR vs Honda CBR 1000 RR Fireblare specifications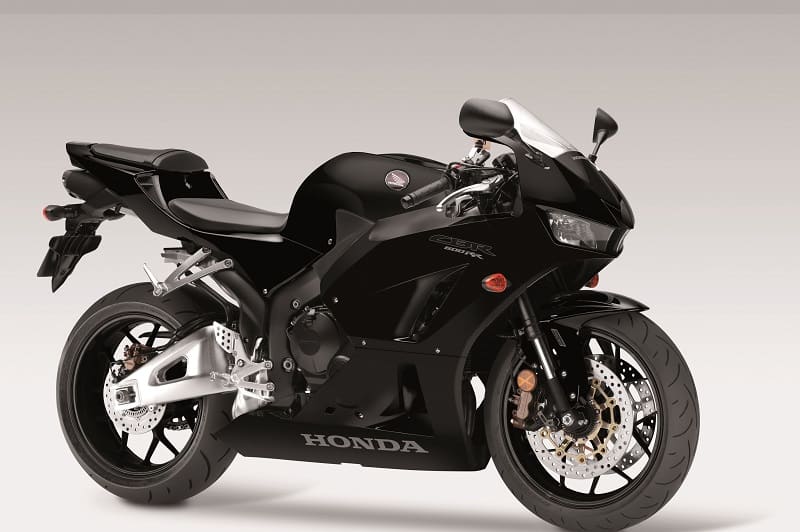 Yamaha R6 vs Yamaha R1
Yamaha is known for making the most aggressive sports bikes, with the tallest seat heights and highest revving engines. Don't watch the promo video below just before taking your new R1 for a ride on the street!
The weight difference between the R6 and the R1 is more noticeable than on the Hondas and the R6 red-lines much higher than the bigger R1, adding to the very aggressive character of the bike.
| | | | |
| --- | --- | --- | --- |
| | Yamaha R6 | Yamaha R1 | Difference |
| Price | $12 199 | $17 399 | +36% |
| Power (hp) | 116.7 | 197 | +69% |
| Torque (lb-ft) | 45.5 | 82.9 | +82% |
| Power/Weight (hp/lbs) | 0.28 | 0.44 | +58% |
| Weight (lbs) | 419 | 448 | +7% |
| Power peak (rpm) | 14 500 | 13 500 | |
| Torque peak (rpm) | 10 500 | 11 500 | |
| Redline (rpm) | 16 000 | 14 000 | |
| Compression Ratio | 13.1 : 1 | 13 : 1 | |
| Seat height (inches) | 33.5 | 33.9 | |
| Tank Capacity (gallons) | 4.6 | 4.5 | |
Yamaha R6 vs Yamaha R1 specifications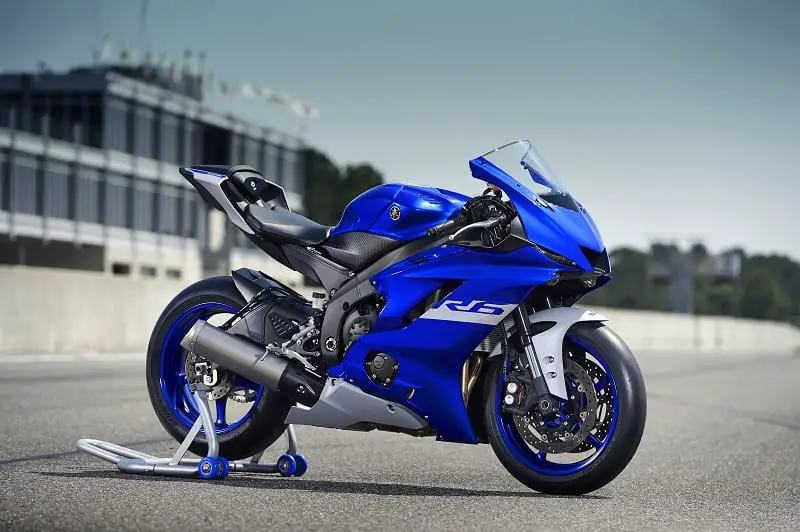 Suzuki GSX-R600 vs Suzuki GSX-R1000R
Suzuki's two sports bikes differ the most in terms of power, weight, price and seat height. The GSX-R1000R delivers a whopping 199.2 hp. That's 92% more than the GSX-R600 and the most powerful of all the 1000 cc Japanse sports bikes.
The Gixxer Thou also boasts the highest power-to-weight ratio of all four and delivers the most torque at the lowest engine speed (86.7 lbs-ft @ 10 800 rpm).
Suzuki
GSX-R600
Suzuki
GSX-R1000R
Difference
Price
$11 399
$17 699
+38%
Power (hp)
104
199.2
+92%
Torque (lb-ft)
44
86.7
+97%
Power/Weight (hp/lbs)
0.25
0.45
+77%
Weight (lbs)
412
445
+8%
Power peak (rpm)
n/a
13 200
Torque peak (rpm)
n/a
10 800
Redline (rpm)
n/a
14 500
Compression Ratio
12.9 : 1
13.2 : 1
Seat height (inches)
31.9
32.5
Tank Capacity (gallons)
4.5
4.2
Suzuki GSX-R600 vs Suzuki GSX-R1000R specifications
Interestingly, the Suzuki GSX-R600 is the only 600 cc bike that doesn't come out with ABS (according to Suzuki's website). There are cheaper versions of the Honda CBR 600 RR and the Kawasaki ZX-6R without ABS though.
Kawasaki ZX-6R vs Kawasaki ZX-10R
The Kawasaki sports bikes are arguably the best value for money racing machines. Not only are the two Kawa's the cheapest in each class, but they win on another metric you may not have seen elsewhere: Price-per-horsepower.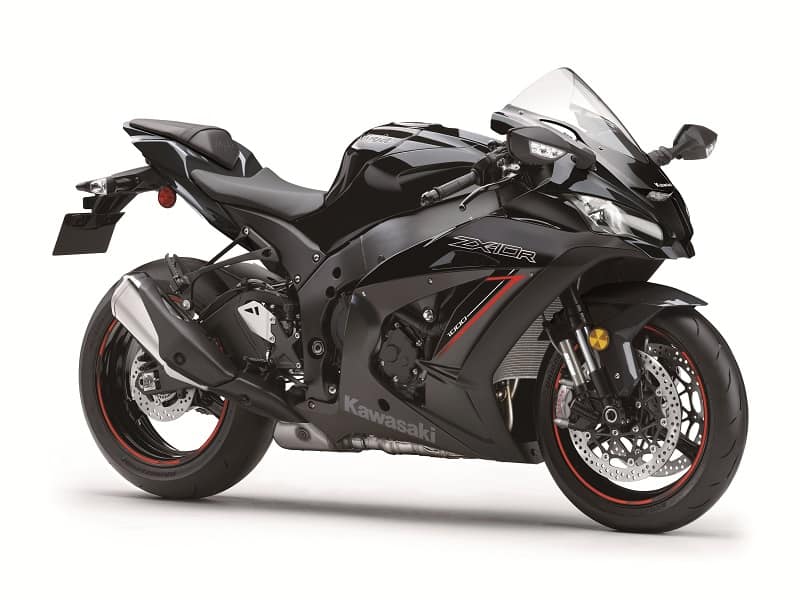 On average, you'll pay $104 per horsepower on a 600 cc Japanese sport bike. The going rate for one horse on the ZX-6R is only $87. On the litre bikes, a horsepower average at $87. On a ZX-10R you get it at a discount of $5. Weird metric? Sure. But it does support the value-for-money argument.
Kawasaki
ZX-6R
Kawasaki
ZX-10R
Difference
Price
$10 999
Non-ABS: $9 999
$16 099
+26%
Power (hp)
126.2
197
+56%
Torque (lb-ft)
52.2
84.6
+62%
Power/Weight (hp/lbs)
0.29
0.43
+48%
Weight (lbs)
430
454.2
+6%
Power peak (rpm)
13 500
n/a
Torque peak (rpm)
11 000
11 500
Redline (rpm)
16 000
n/a
Compression Ratio
12.9 : 1
13 : 1
Seat height (inches)
32.7
32.9
Tank Capacity (gallons)
4.5
4.5
Kawasaki ZX-6R vs Kawasaki ZX-10R specifications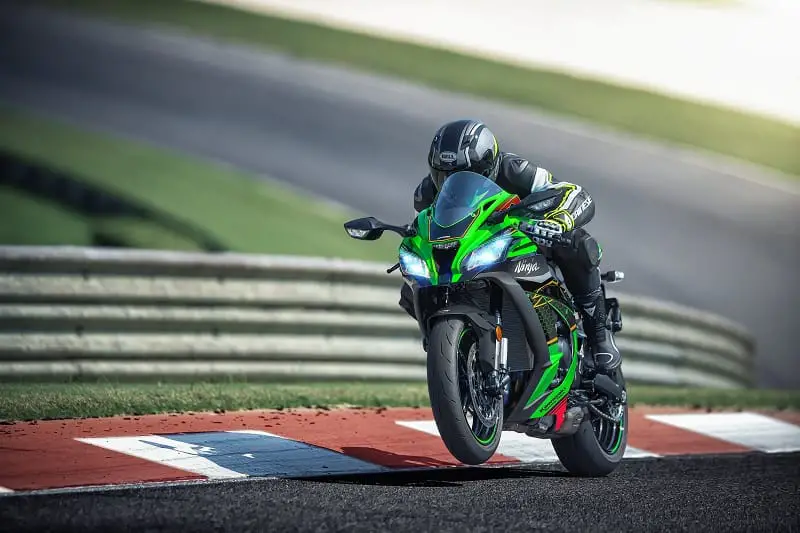 So Which is Better, 600 or 1000?
That's a question with no right answer. It totally depends on what you want form your bike. If you like the thrill of lots of torque low down, go for the 1000. If you prefer riding harder in stead of holding back, the 600 might be more fun. Either way, there's no way you are going to be pushing the limits of either of these bikes on the street and those who claim to do so are just lying.
If you are a total beginner and still looking for your first bike. Get a 250! I promise you that you'll have more fun and you'll be a much better rider much sooner.
Related Questions
Is a Yamaha R6 a good beginners bike? Read this post for 12 reasons why I think it is a bad idea.
Is the Honda CBR 600 RR a good starter bike? Again, I have to say "No!". Here's why.